Why Ancient8 bet on Web3 Gaming Infrastructure
In the Web3 era, game developers have more control over their destinies than ever.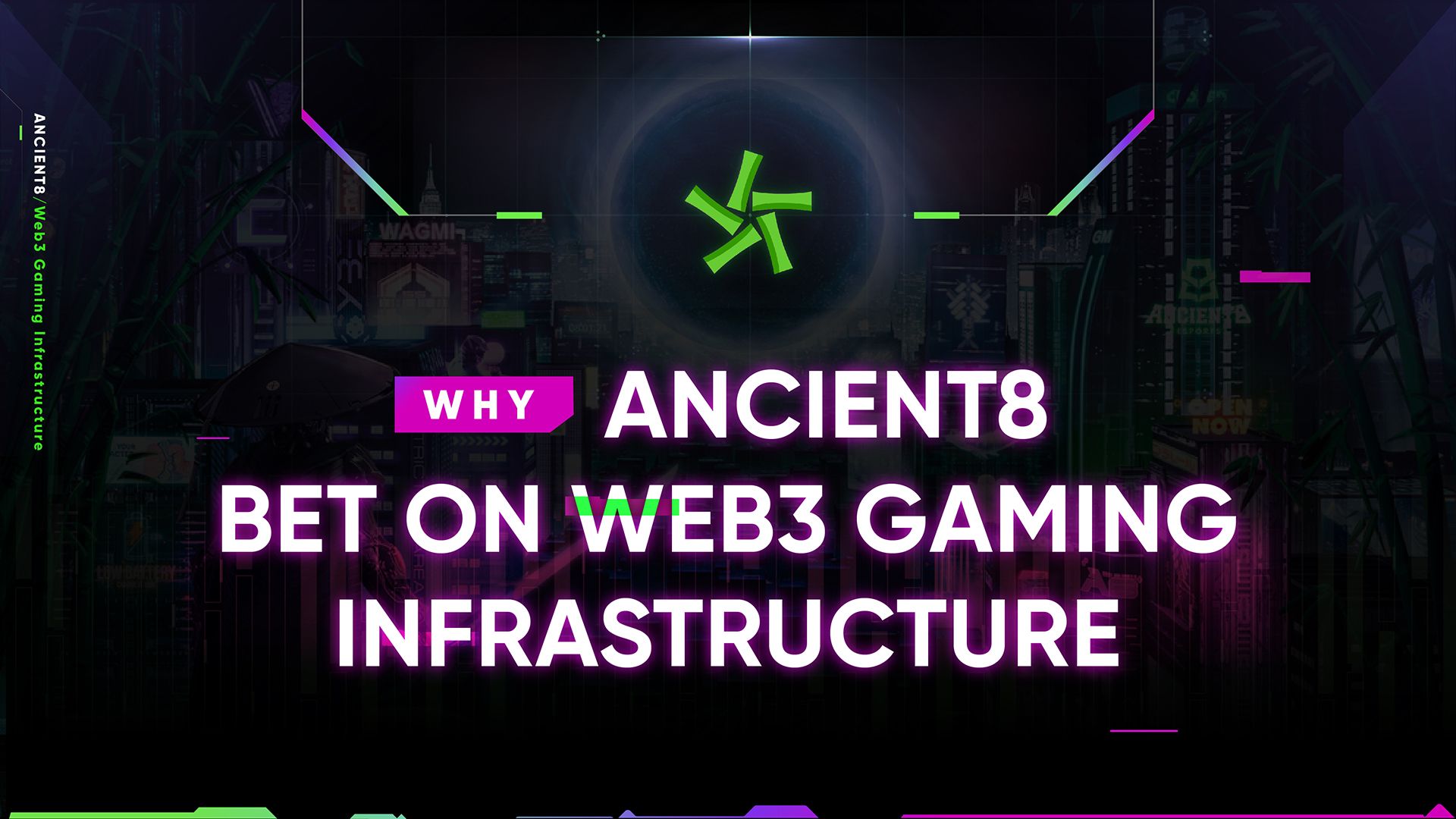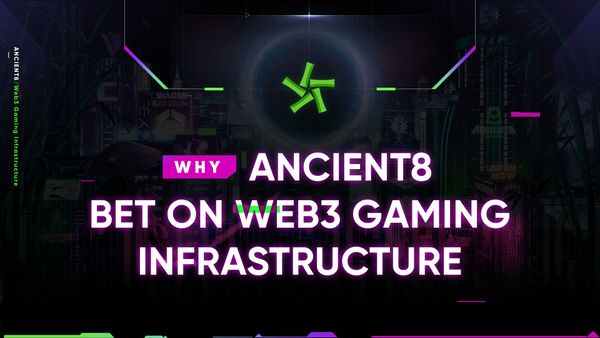 Blockchains enable fundamentally new methods of building Web3 games, from fundraising and development all the way through to marketing and distribution, and are shifting the balance of power in the gaming industry towards game studios and players in the process. These revolutionary innovations are creating demand for new software products— These make up the layers of Web3 gaming infrastructure, and blockchain companies like Ancient8 are racing to build them.
Breaking down (and building up) the Layers
In our previous article Paradigm Shift: Web3 games vs the status quo, we explore some of the major differences between the Web3 and Web2 gaming industries. Long story short, Web3 redistributes power held by game publishers in Web2, allowing more parties to support the development and ultimately share in the success of the games.
However, Web3 gaming is still in its early stages. The blockchain games of today are true pioneers built on radically new technologies and experimenting with new models that need time to be tested and improved. But it's not just the games themselves— there are multiple layers of GameFi infrastructure that need to be developed to support the games and their communities.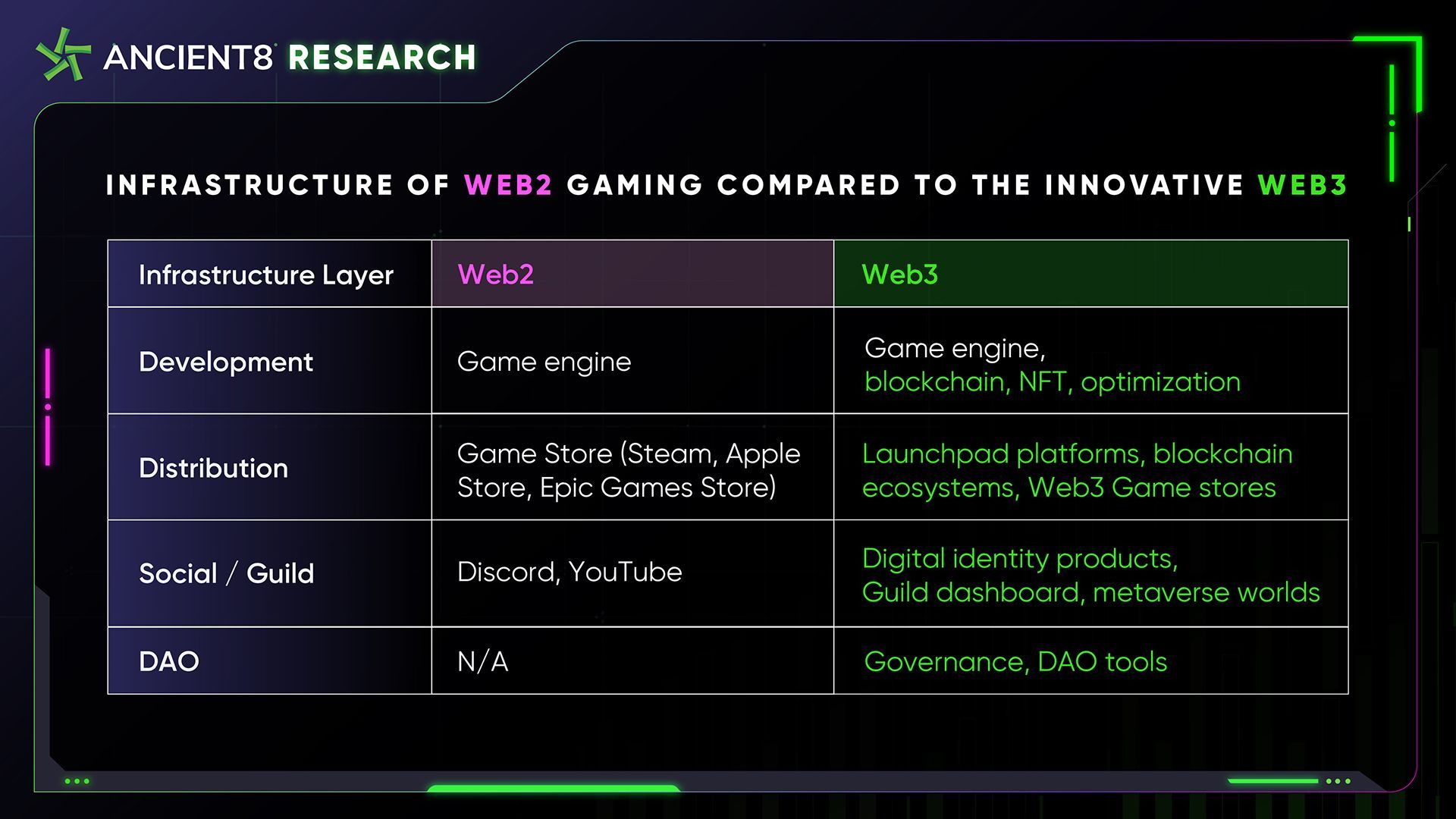 Just like Web3 games, the infrastructure for GameFi has yet to reach its full potential. From our Launchpads and User ID product to projects we have yet to announce, Ancient8 is building useful and intuitive software infrastructure across multiple layers to serve players, games, and guilds.
Software at the foundation
A number of software products are needed to improve the Web3 gaming infrastructure layer such as a Launchpad platform, Digital identity tools, and Guild dashboard. Each supports a different stage in a game's development. Together, they will provide a new level of user experience and operational efficiency in the GameFi space. The Ancient8 team began our journey by organizing a gaming guild, so we understand firsthand where the pain points and inefficiencies exist in the system— from tedious scholarship management systems to growth hacking and marketing games to online communities.
Blockchain Scaling
At this point, we are all painfully familiar with the high gas fees for minting and transacting on Ethereum. As NFTs become more widely used in games and other industries, the minting process will have to be streamlined and made more affordable through scaling solutions. But we don't have to just wait around for the Ethereum foundation— A great improvement came from Chiro Labs, the team behind Azuki, one of the most popular NFT PFP collections. Chiro Labs introduced the ERC721A standard for its public sales, which facilitates the minting of multiple NFTs in a single transaction and reduces minting costs for end-users in the process. We have yet to see many other successful enhancements, however. We can expect Layer 2 and other scaling solutions to improve gas efficiency, transaction speed and blockchain usability for the benefit of all.
Launchpad platform
Token and NFT Launchpads are nothing new in crypto. However, GameFi-focused launchpads that host both NFTs and Game tokens on one platform are an important vehicle for game projects in terms of both funding and marketing/community building.
Because no major publishers are backing most blockchain game studios, early investment from VCs, Guilds, and crowdfunding is essential for bootstrapping the project's development. By managing Vietnam's largest gaming guild and building a global community of GameFi enthusiasts through our Ancient8 Community Alliance (ACA), it makes perfect sense for Ancient8 to have our own GameFi launchpad to host token and NFT sales for our Game Partners.
And beyond the obvious purpose of raising funds, the launchpad and sale events can serve as a great catalyst for community building for the games. Blockchain Gamers who love to be early to projects will follow the Launchpad's event calendar and read the research every game through the articles on our Research Portal. At that point, it's officially on their radar. And if they choose to participate in the sale, they will do so alongside thousands of others who are excited about supporting the game. These events are exciting and get players invested not just financially but also emotionally in the future success of the project. The game increases their following and funding, and the players discover the next game to get hyped about and join a new community of early fans.
At Ancient8, we view the launchpad as a gateway for onboarding brand new blockchain gamers into the Metaverse, and as a social platform for building friendship and fandom.
Digital identity profile
As Web3 gaming evolves and the number of games and guilds starts to multiply, the need for a digital user identity (UID) profile grows. UIDs offer users one personal profile to track their progress and user info across the metaverse and serve as a passport for each person to participate in Web3 games. It can store game stats, community contributions, and other personal achievements across your GameFi experience. What's more, a UID profile offers another perfect way to connect players and game developers. The publicly shared record benefits both parties; players can show off and prove their experience and skill, while devs can analyze the data to inform game updates or identify strong players they may want to recruit for special opportunities.
For instance, say an Axie player with a Matchmaker Rating (MMR) of 3k proudly displays his stats on his UID. There's a good chance he may be recruited by a new game and given early access to test its pre-Alpha launch! The UID combines the best aspects of social media with the blockchain's inherent value as an open ledger to serve as a public-facing passport / profile for every metaverse citizen.
Guild dashboard
Gaming guilds are vital communities in the GameFi space. As more gamers realize the value of blockchain games, Guilds will need better management tools and software in order to scale . A guild dashboard can automate most of the tedious and time-consuming tasks for guild operators. This initiative will encourage more people to start their own guilds, which sustainably scales up the GameFi community while reducing the centralization of guild power.
The Guild dashboard combines with the UID to level up the experience for GameFi users even further. The users can track their performance, receive rewards, and apply for new scholarships, all in one place.
Commitment to GameFi infrastructure
On our mission to democratize social and financial access in the Metaverse, Ancient8 is building the infrastructure for GameFi with a focus on software and community. We help GameFi studios reach passionate gamers and run web3-native targeted advertising through our GameFi Identity product and Launchpads. Gamers and crypto communities will soon be able to create GameFi identity profiles to track and showcase their achievements in Web3, discover high quality blockchain games, and access guild scholarships and blockchain education more effectively.
The commitment leads us to a mission to serve our people better, and conquer our journey into the metaverse. Follow us to get updated with the latest news and products.
About Ancient8
Ancient8 is developing the infrastructure for GameFi, with a focus on software and community. Ancient8 is building GameFi Identity and Launchpad products to serve as the marketing distribution channel for GameFi and Metaverse projects to onboard millions of users. Ancient8 manages Vietnam's largest blockchain gaming guild, and enables everyone to build the Metaverse through blockchain software products, guild scholarship, blockchain education, institutional-grade research, and community. Ancient8's vision is to democratize social and financial access in the Metaverse.
---
Join us in our journey to build the Metaverse!
Twitter | Discord | Website | Blog | Facebook | Telegram | YouTube