TIPS AND KEY THINGS TO KNOW BEFORE PLAYING CYBALL
If you are new to CyBall, don't miss this article!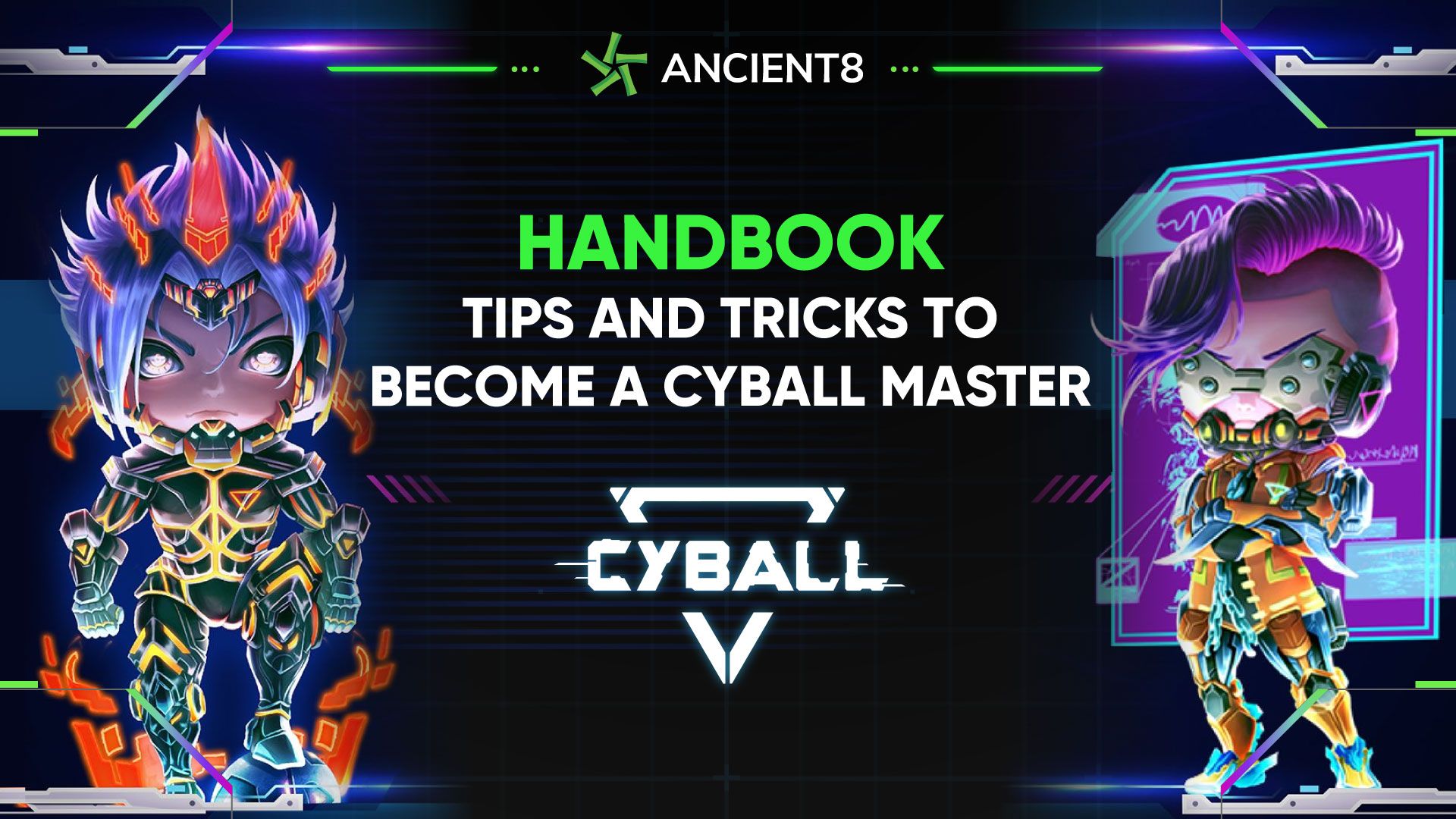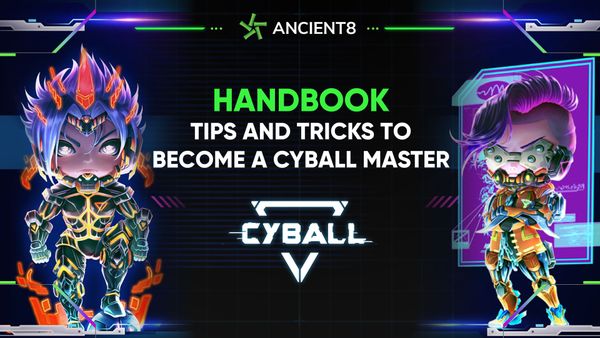 How to claim account on CyLoans
Key things to know before playing CyBall
Game rules
Your account will be banned if you transfer CyBlocs back and forth too many times a day
Each CyBall account (connected with 1 Metamask wallet) can only be played on a single device
Gameplay
In Exhibition 3v3, there are 3 Key Events each half
At the beginning of each Key Event, you will have 30 seconds to choose the CyBlocs and Tactic Cards you want to use
If you don't click Ready before the 30 seconds is up, the game will randomly select CyBlocs for you, and no Tactic Card will be chosen.
Tactic Cards
Tactic Cards directly affect CyBlocs, GK, game mechanics & strategies in gameplay.
Players begin each match with 6 randomly selected Tactic Cards from their deck of 50. These cards are discarded and replaced with 6 new cards at the start of the 2nd half.
Energy
Players are given 60 Energy per day, refreshed at 0:00 UTC every day.
Players spend 3 Energy/match, for a total of 20 matches per day (~100 minutes of gameplay)
Goal-scoring opportunity
Total Stat Skills + Traits + Tactic Cards determine the ability to keep, pass or block the ball in Key Events. The winner of a Key Event has the chance to score a goal if the Skill rating difference between two teams > the GK shot-stopping rating.
Exhaustion
CyBlocs that participated in the previous Key Event are subject to a temporary Exhaustion effect, which makes them suffer -10 to all their Skill ratings for 1 round.
Tactic Cards - Tip the match in your favor
There are 50 Tactic Cards with 7 distinct types and 25 unique effects.
Players begin each match with 4 Stamina to spend on Tactic cards. Skillfully combining a Tactic Card along with Traits to improve your Match Balance between rounds will help tip the match in your favor.
Traits - Tips to build a team
There are 50 unique traits that offer distinct advantages for each CyBloc. These traits play an important role in building a successful team and forming strategies based on the powerful advantages that they offer.
These traits can also be passed on to the next generation in the Mentoring feature (similar to "Breeding" in Axie Infinity).
Tips - Awesome tricks in CyBall
This section will give everyone an overview of Cyball tactics and some awesome tricks to gain an edge in matches.
Matchmaking - only search for matches <15s and don't cancel too soon to avoid losing energy when the system hasn't updated in time.
Check out your opponent's Traits & quickly reference Ancient8's Infographic
Choose CyBlocs & increase skill points when leveling up: Focus only on the 2 most prominent skill stats of each CyBloc/team
1. Basics in a match:
a. Analyze the opponent and choose the appropriate Strategy:
After finding the match, there will be an image of both teams before entering the match. Although it only lasted for about 5 seconds, it's enough time to recognize the Class, Trait Type and skill index of your opponent in comparison to your team. Analyzing the opponent's team helps players choose the best Strategy for the match.
Here's another trick- When the Strategy selection interface appears (1st round), your 6 Tactic cards also appear. Identify your Tactic cards first as they can help inform the best strategy for the round. This will definitely help you improve your win rate!!
b. Tactic Power control:
Controlling your Tactic Power and counting your opponent's Tactic Power helps you choose when to use a tactic card properly to take advantage of that round. (for example, you only use the "Steal" card when you are sure that the opponent's Tactic Power is higher than yours)
Always keep at least 1 stamina for Round 2 as Tactic Power Effects cards like Backup Power or Second Wind always require 1 stamina to activate the effect!
c. Goal-scoring opportunity:
Total Stat Skills + Traits + Tactic Cards determine the ability to keep, pass or block the ball in Key Events. The winner of a Key Event has the chance to score a goal if the Skill rating difference between two teams > the GK shot-stopping rating.
How to calculate GK Shot-stopping Rating
d. CYPOWER:
This is a small but quite useful feature in the game. It helps to quickly add up the Skill stats and Trait stats of the CyBlocs in your team, saving time for comparing & choosing the right CyBlocs for the Key Event.
e. Must-know Tactic Cards and their effects:
After a Key Event is over, there will be a table summarizing what tactic cards both sides used. If you remember the Tactic Card name and its effect, it will help you make decisions in the next Key Event. Also, it doesn't take long to read all the information on the card. So be sure to study the tactic cards right away HERE
2. Advanced tactics to increase your win rate:

a. Power combo - Dominate the game with Can't keep up + Nutmeg:
With the ability to create an Exhaustion effect on the opposing team (-10 all skills) throughout the half, this combo helps players control the game even facing stronger teams and Class/skill disparities.
Combo Can't keep up + Nutmeg : After the opponent gets Exhausted by Can't keep up, there is a high probability that they will use Supercharge Fuel or Energy Drink to remove the Exhaustion effect in the next round - When that happens, we like to use Nutmeg to negate the opponent's tactic card, and the opponent wastes a card!
b. Swing the odds in your favor with Special Move:
If you have a Special Move card with a stat double effect, then congratulations - this is one of the strongest attack cards available today. Doubling a skill stat helps you turn the tables, even when your team is exhausted or facing an opponent 2 class / levels up on you.
However, the disadvantage of this card is that you have to use it in the correct Key Event and it will cost 2 of your 4 energy. Make sure to save it for the most decisive moments of the match to ensure that winning that Key Event will have the greatest impact.
c/ Absolute defense with Perfect Save:
Perfect Save is a great card for maintaining your lead. For example, if you are winning 3-2 and use a Perfect Save card, no matter how much better the opposing team's stats are, your goalkeeper will still stop the ball. Unlike Perfect Save, the Improved Reflexes card cannot fully protect your goal, and your goalie may still let one slip.
d. Cards of Fate: Comms Jammer and Tactical Foul
Facing a stronger opponent, you can be sure your opponent will employ the best stat to outperform you. If you don't have any Doubles or Perfect Saves, Comms Jammer and Tactical Foul are good alternatives. These cards mean that Cyblocs or Key events of both teams are randomly selected for that round. This does not guarantee a win, but if you have no other options, it's the best course of action instead of giving up the round.
e. Update & Skill Boosts
The Update card is also a good card you to use in round 1 if your other cards can't help you much. However, the Force Update card should not be used, because you cannot tell if the refresh of your opponent's card is good or bad, and it also costs 1 stamina.
In addition, Skill Boost cards like Comeback or Dominant Performance also boost your chances of scoring a goal - especially when combined with Traits and effects!
Refer to Ancient8 complete guidebook here
About Ancient8
Ancient8 is building a DAO that develops the infrastructure layer for GameFi, with focuses on the community and software. As Vietnam's largest blockchain gaming guild, Ancient8 enables everyone to build the Metaverse through scholarship, blockchain education, institutional-grade research, community, and blockchain software products. Ancient8's vision is to democratize social and financial access in the Metaverse, and is on a mission to reach, educate, and empower the next 100 million Metaverse citizens through the blockchain.
Ancient8 is backed by leading investors including Dragonfly, Pantera, Hashed, Mechanism, Coinbase, Alameda, Jump, Animoca, among others.
---
Join us in our journey to build the Metaverse!
Twitter | Discord | Website | Blog | Facebook | Telegram | YouTube