INTRODUCING THE ANCIENT8 RESEARCH PORTAL
We're thrilled to introduce our brand new product, the Ancient8 Research Portal, created to fill the demand for trusted GameFi research and empower the first generation of Metaverse citizens with decision-making competence, exclusive insights, and access to new opportunities.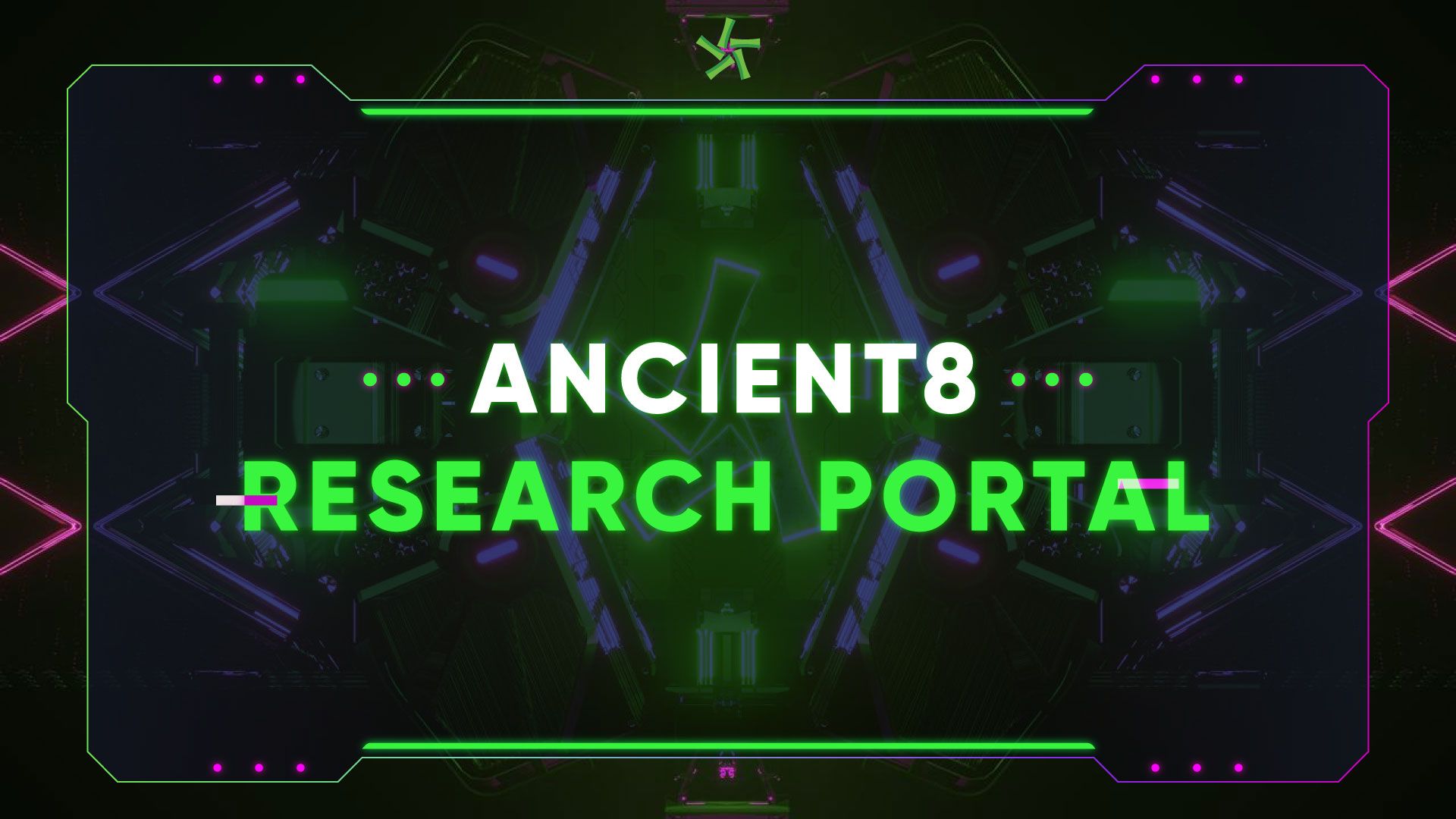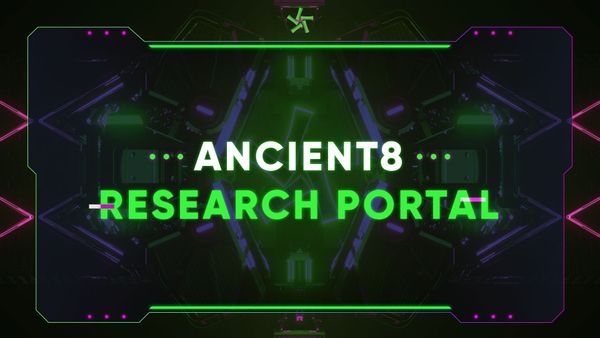 GameFi has emerged as one of the hottest sectors in crypto. Blockchain-powered gaming protocols are opening up new economic paradigms that offer players unprecedented financial opportunities that were not previously feasible. In crypto, it pays to be early; however, with more and more blockchain games in development, it is becoming significantly harder to assess the potential of any given project. GameFi is still in its volatile early stages, which means players and investors face a high degree of risk.
The Ancient8 Research Portal was created to fill the demand for trusted GameFi research. Our research team conducts thorough investigations and sources alpha from our extensive network to provide institutional-grade game analysis and macro research. We are committed to maintaining objectivity and holding all projects to a high standard in order to cultivate a thriving GameFi industry.
Also, to celebrate this remarkable milestone, we bring our beloved community with the Read-to-earn competition to win prizes up to $1,500 and 54,000 BBP!
Vision and Mission
We believe the decentralized world will grow exponentially and that blockchain technology will be used to improve countless aspects of our everyday lives, including our favorite games. Ancient8 is at the forefront of making this a reality.
Ancient8 Research Portal is a GameFi analysis portal empowering the first generation of Metaverse citizens with decision-making competence and access to opportunities through in-depth Game Analysis and Macro Research.
This vision and mission will strengthen our community and provide immense value to anyone looking to participate in and gain exposure to the upside of the blockchain gaming market.
What do we offer?
Ancient8 Research Portal produces independent research at scale that is both high-quality and intended for all experience levels - from blockchain gaming newbies to professional analysts. It allows our readers to dive deeper into a project's gameplay, team, tokenomics, community, etc.
Our research spans a range of topics, from "CyBall Game Analysis" to more comprehensive discussions like "Play-to-Earn vs Play-and-Earn?" and "How to design sustainable economies for NFT games." Our content is classified into two main categories: Game Analysis and Macro Research.
Game Analysis delves deep into the hottest gaming projects in the market. We thoroughly analyze all aspects of a project such as gameplay, team, investors, tokenomics, community and development roadmap. These articles will also be continuously updated to provide the most comprehensive and up-to-date information. This gives readers the ability to properly evaluate the potential of each project.
Our Macro Research offers various perspectives on the wider GameFi world— Overviews of the latest technology, operating models, protocol ecosystems, challenges the sector is facing, and a holistic outlook of GameFi's future development. All will be collectively analyzed and evaluated by our expert team to give an objective and comprehensive view of this revolutionary new sector.
Research Portal content will be available in two modes: Public and Exclusive. Content in Public mode will be available to everyone, while Exclusive mode will only be accessible to partner projects and GameFi companies. Exclusive mode grants early access to our content up to 10 to 14 days before it's made public and will feature exclusive content in the future. All research content is available in both English and Vietnamese.
The opportunities are within your reach!
With the recent rise of blockchain games and NFTs, it is clear that GameFi could prove to be one of, if not the most exciting revolutions in the global gaming market today. Ancient8 Research Portal will help us to further reach, educate, and drive awareness and adoption of cryptocurrencies through comprehensive, accurate, and up-to-date information. Use these tools to level up your knowledge of GameFi and the blockchain industry as a whole.
Get caught up on new projects and find hidden GameFi market opportunities in the Ancient8 Research Portal today!
Read-to-earn with Ancient8 Research Portal
To kick-start and celebrate this milestone, we're pleased to introduce the 'Read- to-Earn with Ancient8 Research Portal' campaign with the purpose of bringing a playground for our beloved community to test the knowledge as well as earn attractive rewards from reading and researching! Participate in the Read-To-Earn Competition to win prizes up to $1,500 and 54,000 BBP now! Details about the Read to earn campaign here.
About Ancient8
Ancient8 is building a DAO that develops the infrastructure layer for GameFi, with a focus on community and software. As Vietnam's largest blockchain gaming guild, Ancient8 enables everyone to build the Metaverse through scholarship, blockchain education, institutional-grade research, community, and blockchain software products. Ancient8's vision is to democratize social and financial access in the Metaverse, and is on a mission to reach, educate, and empower the next 100 million Metaverse citizens through the blockchain.
Ancient8 is backed by leading investors including Dragonfly, Pantera, Hashed, Mechanism, Coinbase, Alameda, Jump, Animoca, among others.
---
Join us in our journey to build the Metaverse!
Twitter | Discord | Website | Blog | Facebook | Telegram | YouTube