Be part of Ancient8 - Grab CyBall Scholarships up to $3,500
To express our sincerest gratitude to our community for your continued support, Ancient8 together with CyBall are pleased to bring a special event to you with some incredible rewards.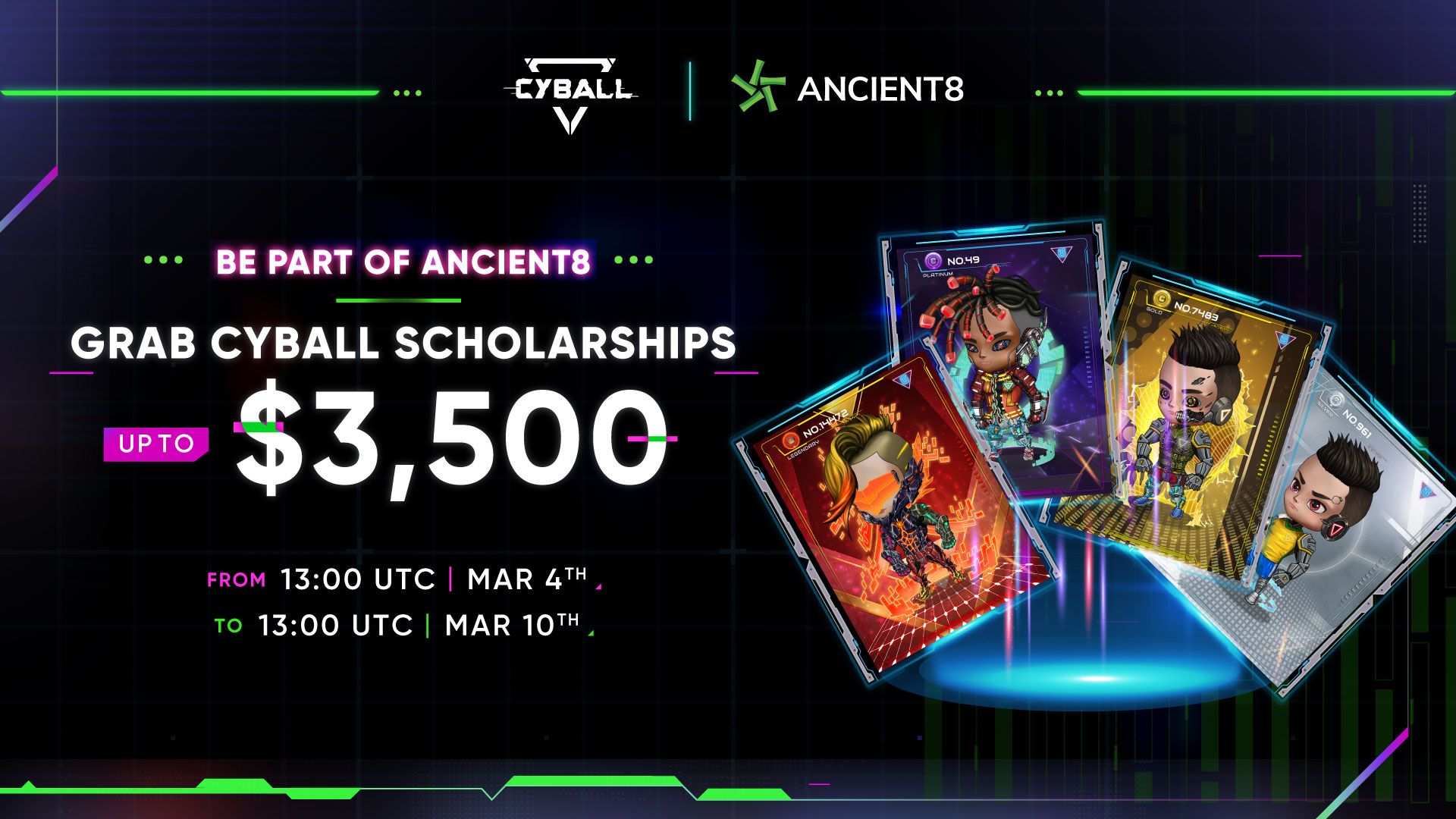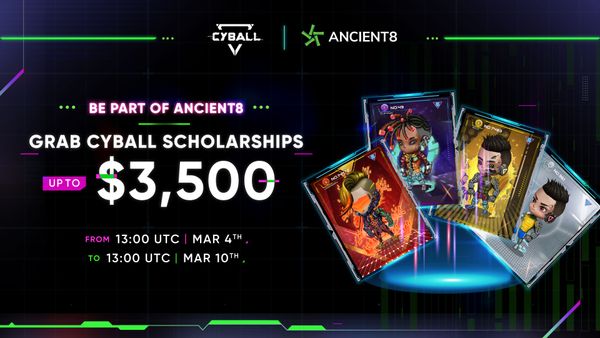 After 1 week of the official game launch, CyBall has witnessed an immense influx of players from many different walks of life enjoying the attractive graphics, gaming features and clever Play-To-Earn mechanics!
The 2nd CyBall scholarship recruitment has received a lot of interest with many applications from the Ancient8 gaming community. To create an interesting playground for our community as well as preparing them for the many upcoming scholarship recruitment stages, Ancient8 in collaboration with CyBall  has decided to organize a special giveaway event - 10 exclusive CyBall scholarships up to 3500 USD.
Event details
Timeline: from 13:00 UTC on March 4, 22 to 13:00 UTC on March 10, 22
Total rewards: 10 exclusive CyBall scholarships with 30% share in revenue
Each includes a CyBloc team equipped with 1 Gold - 1 Silver - 1 Bronze worth up to 3500 USD (at the time of writing)
The result will be announced within 7 days from the end of the event!
How to participate
Benefits of the exclusive CyBall scholarship from this event
Each scholarship is a CyBall game account equipped with 3 CyBloc: 1 Gold - 1 Silver - 1 Bronze with a total value of up to 3,500 USD
Scholar will enjoy a competitive revenue share of 30%
Be trained by Ancient8 Lac General to maximize your capacity.
Help you connect to GameFi as well as the Cryptocurrency community to learn and improve your skill and knowledge base!
Disclaimers
Ancient8 has full control over the rules at all times and the outcome of the event.
Any changes to participation information (including reward wallet address) after the event has ended will not be supported.
Ancient8 reserves the right to recall the scholarship if the player does not timely meet the guild's criteria.
About Ancient8
Ancient8 is building a DAO that develops the infrastructure layer for GameFi, with focuses on the community and software. As Vietnam's largest blockchain gaming guild, Ancient8 enables everyone to build the Metaverse through scholarship, blockchain education, institutional-grade research, community, and blockchain software products. Ancient8's vision is to democratize social and financial access in the Metaverse, and is on a mission to reach, educate, and empower the next 100 million Metaverse citizens through the blockchain.
Ancient8 is backed by leading investors including Dragonfly, Pantera, Hashed, Mechanism, Coinbase, Alameda, Jump, Animoca, among others.
---
Join us in our journey to build the Metaverse!
Twitter | Discord | Website | Blog | Facebook | Telegram | YouTube