Ancient8 CyBall Scholarship Army Recruitment - Start Your GameFi Journey with Ancient8
CyBall is back on the field and better than ever!!!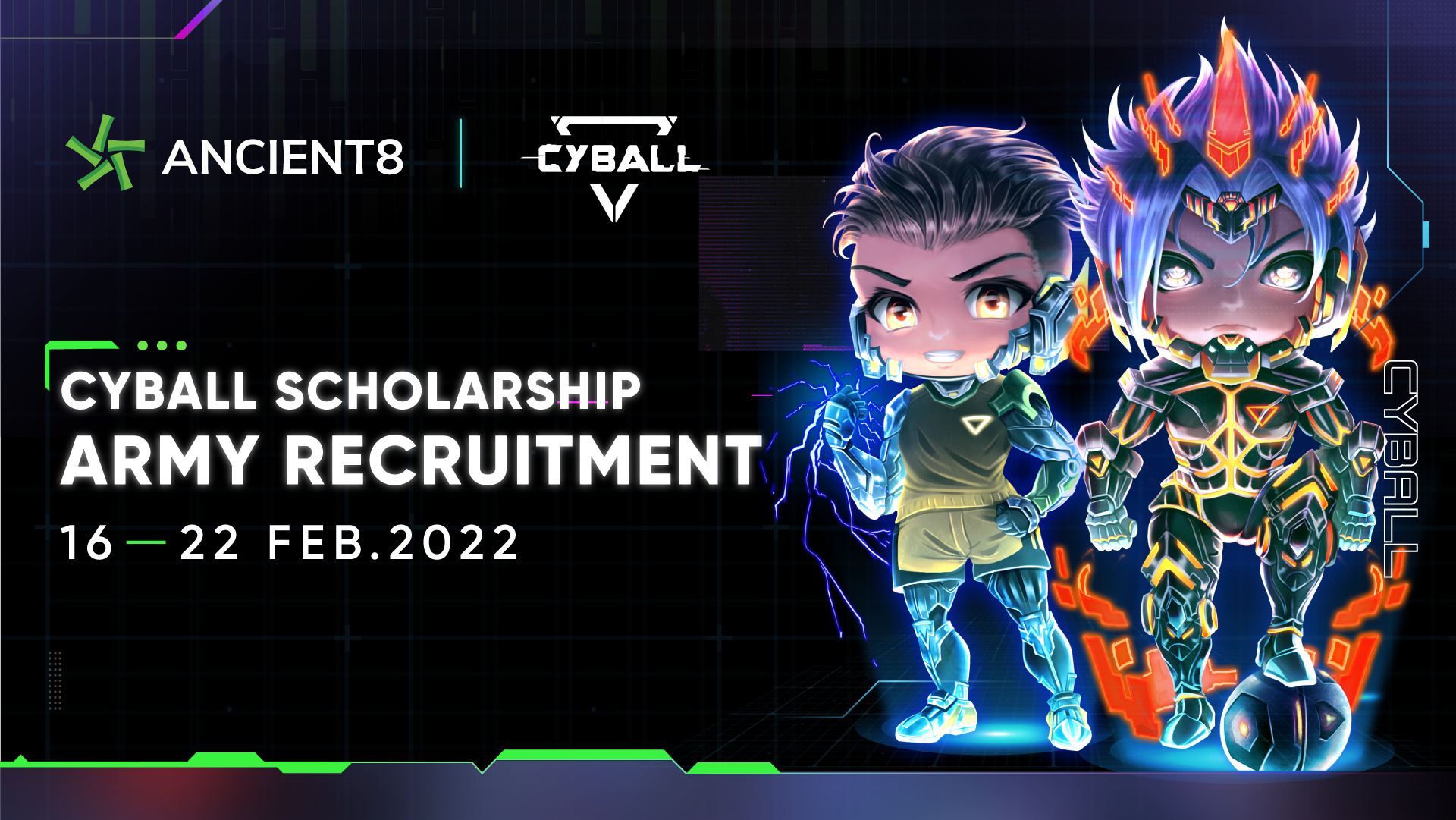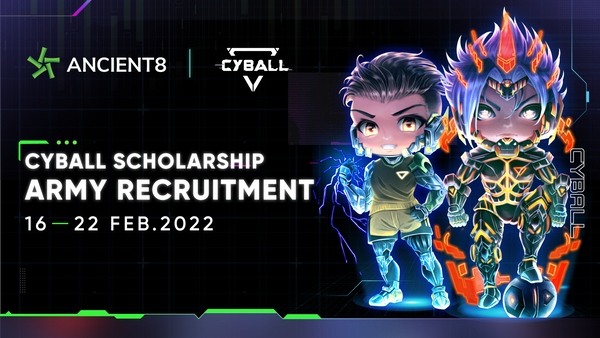 CyBall is a P2E game that has exploded onto the scene from the time it launched its successful triple IGO across BinanceNFT, GuildFi and CyBall.com. Being incubated by some big names in the blockchain space such as Impossible Finance, Animoca Brands, Ascensive Assets, and more, CyBall is growing in popularity among the P2E community. CyBall has opened an Alpha test version for users to try the game since Jan 2022 and will soon release the official version with many advanced features, including CyLoans, Stadiums and Play-To-Earn mechanics.
The first 50 CyBall Scholarships in the very first Ancient8 CyBall Army Recruitment: https://bit.ly/3lMKKak
Today, Ancient8 is opening its 2nd CyBall Scholarship Army Recruitment for our finest Soldiers. It's an honor for Ancient8 to partner with CyBall and we are proud to be one of the first Gaming Guilds to pioneer CyBall Scholarships for the global community. More details and instructions on how to apply for the Scholarship can be found in the section below.
Details
Total CyBall Scholarships for 2nd Army Recruitment: 120
Time to start the 2nd Army Recruitment: February 16, 2022 - February 22, 2022
Elected applicants will be guided to receive a CyBall scholarship and begin their GameFi journey with Ancient8. The selection process for CyBall scholarships as an Ancient8 soldier will be in batches. The Scholars list will be announced on Ancient8's Discord Server.
Benefits of being an Ancient8 CyBall Soldier
Receive 1 CyBall game account equipped with 3 CyBlocs with the appropriate class (Bronze / Silver / Gold / Platinum) that suits the scholar's ability.
Receive an in-game investment of up to $1000.
Competitive income
Be trained by Ancient8 Lac General to maximize his capacity.
Help you connect to GameFi as well as the Cryptocurrency community to learn and improve your skill and knowledge base.
Advanced opportunities developed in tandem with Ancient8.
How to apply for the CyBall Scholarship
Experience the Alpha Test version to understand the basics of the game before applying for the Scholarship to ensure that you can stick with the Guild for a long time.
Register via the form 👉 https://hmtpexl7fbo.typeform.com/CyBallScholars
Saint Giong NFT holders who wish to register will be prioritized!
One of the benefits of owning Saint Giong NFT from Ancient8's Collection is the priority when participating in our scholarship programs. Saint Giong NFT holders who wish to register for CyBall Scholarship, please go to Ancient8's Discord Server to receive the NFT Holder role to be prioritized right away!
Claim your role here 👉https://discord.com/channels/882274636342116372/939714457754542120/940104534351556650
Please contact us on Ancient8's Discord Server for further questions. Are you ready to be a CyBall Soldier?
About Ancient8
Ancient8 is building a DAO that develops the infrastructure layer for GameFi, with focuses on the community and software. As Vietnam's largest blockchain gaming guild, Ancient8 enables everyone to build the Metaverse through scholarship, blockchain education, institutional-grade research, community, and blockchain software products. Ancient8's vision is to democratize social and financial access in the Metaverse, and is on a mission to reach, educate, and empower the next 100 million Metaverse citizens through the blockchain.
Ancient8 is backed by leading investors including Dragonfly, Pantera, Hashed, Mechanism, Coinbase, Alameda, Jump, Animoca, among others.
---
Join us in our journey to build the Metaverse!
Twitter | Discord | Website | Blog | Facebook | Telegram | YouTube