Ancient8 Pillars & Ecosystem
The Ancient8 ecosystem is built on the foundational trinity of Community, Partners, and Investors. Like bamboo, an undying spirit and unity create synergy between us.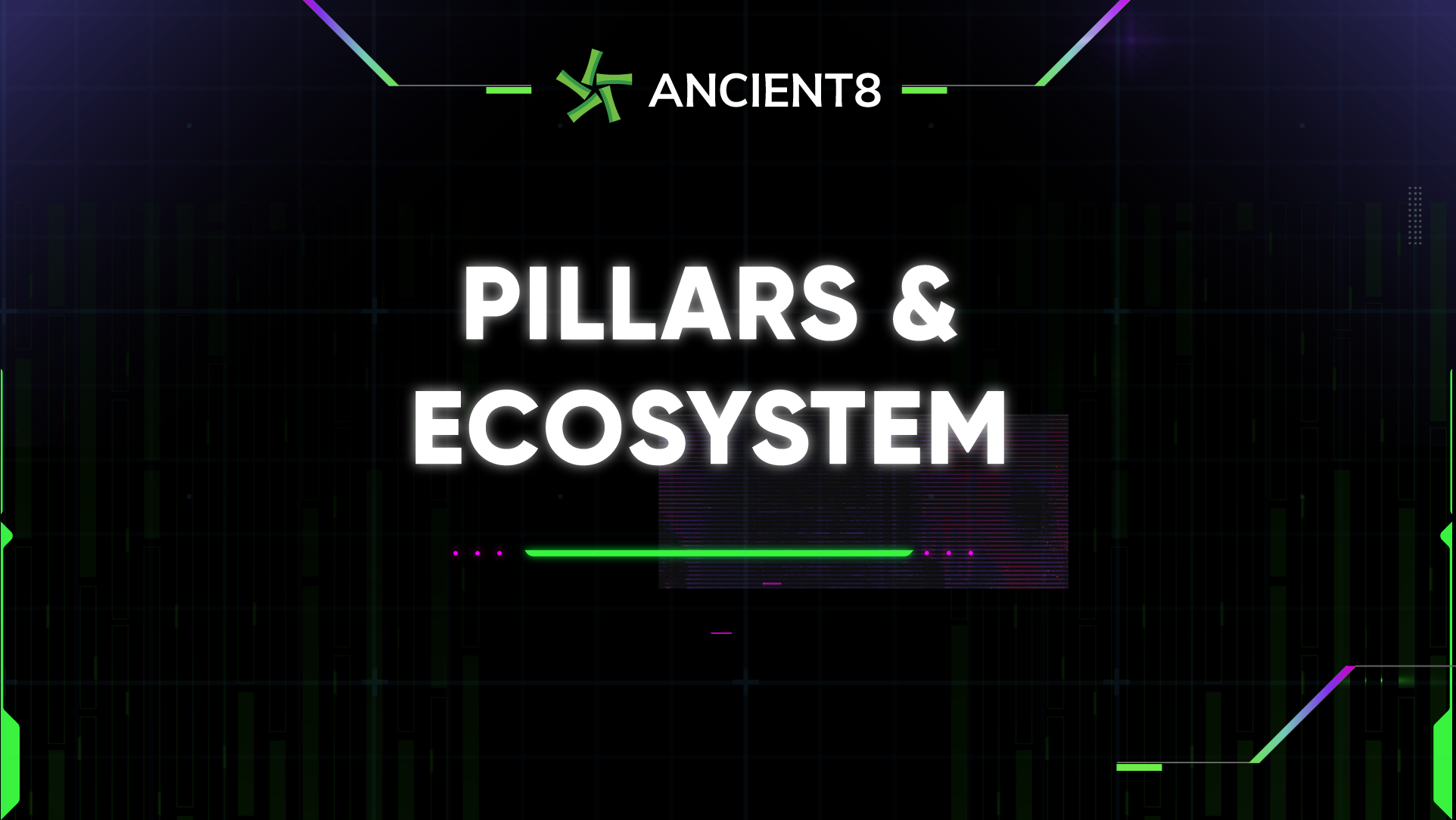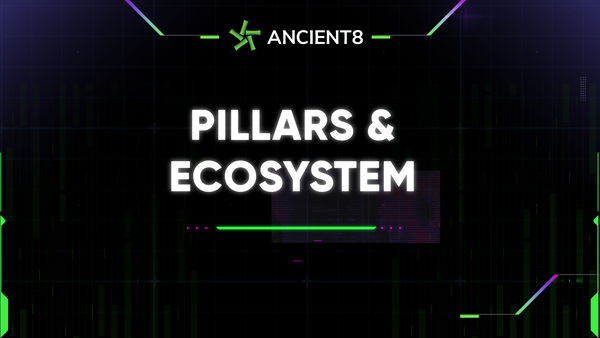 The Ancient8 ecosystem is built on the foundational trinity of Community, Partners, and Investors. Like bamboo, an undying spirit and unity create synergy between us.
These three pillars are the driving force behind our development of several Web3 toolkits to reach, educate, and empower the next 100 million citizens of the Metaverse.
Pillars
Our community-first ethos has led Ancient8 to build the ultimate form of decentralized governance - a DAO. Like many successful DAOs, our founders are initially responsible for guiding the guild towards our shared vision. Eventually, through progressive decentralization, Ancient8 DAO will be primarily governed by the votes of our community members.
The best way to expand and empower our community is through the strategic partnerships that make up the Ancient8 Community Alliance, which is open for all prominent Crypto communities in the region and across the globe to join. We will support our allied partners with a variety of educational resources and toolkits for the metaverse. Together, we can expand our influence and scale up fast while supporting Ancient8 DAO's long-term growth.
Our industry partners and investors are also essential pillars that fuel the growth of Ancient8. Partnerships with GameFi pioneers such as Axie Infinity, Cyball, Thetan Arena, Sipher, etc. allow us to build a GameFi portfolio that better serves our Community. Resources and expertise leveraged from our world-class investors also provide immense value and advantages to the Ancient8 team in building the Ancient8 DAO and ecosystem.
Ecosystem
GameFi Scholarship
Play-to-earn models have offered a substantial source of income for players in Vietnam and other countries, especially during the height of the pandemic. Ancient8 partners with popular GameFi projects and new games that are still pre-launch to grant scholarships to our recruits. We aim to expand the program in the near future to accommodate demand from our growing waitlist.
E-sports
As a pioneering blockchain gaming guild, one of Ancient8's primary goals is the elevation of GameFi to professional Esports status. To this end, Ancient8 is forming an Esports team starting with Axie Infinity, currently the most successful blockchain game. Our team is also actively recruiting key personnel from the professional Esports world and organizing multiple tournament series to help us build and develop a legitimate GameFi Esports community in Vietnam.
Management Platform
Most gaming guilds, especially small ones, are run manually, and the lack of GameFi-specific management tools has hindered our collective growth. Our scholars and managers need automated tools to more easily and efficiently manage the accounting process. Learning from our early growing pains, Ancient8 has built an internal management application - a dashboard where scholars can track their progress and development. Eventually, they will receive NFT certificates and rewards for their achievements and social contributions. The dashboard will improve efficiency and transparency for the whole industry, allowing us to offer Guild-as-a-Service (GaaS) to the market.
Saint Giong NFT - Digital ID
Saint Giong NFT badges are awarded to Ancient8's most dedicated members. They serve as unique digital IDs and will integrate with all parts of the A8 ecosystem. Everyone has the ability to obtain these NFTs, as long as they contribute to the growth of Ancient8 as a whole. Owners will receive cool perks including:
Priority in joining Ancient8 Scholarship Programs
Whitelist for Ancient8 Products and Events
A unique identity in the Ancient8 community
Exclusive ecosystem benefit from Ancient8
Discord badge with access to exclusive channels on Ancient8 Server
Mystery drops
Ancient8 Academy
The Academy is the educational hub of the Ancient8 Gaming Guild. Our scholars and members can level up their knowledge even from a very beginner level with courses on Blockchain & crypto, Play-to-earn concepts, and Game-specific tutorials.
We also offer livestream training sessions hosted by our elite coaches and top-tier players on Discord. Besides the invaluable knowledge gained, our members are recognized and rewarded with community prizes for every contribution. As our guild levels up, we believe the Academy will genuinely drive Ancient8 towards sustainable autonomy.
Research
The GameFi landscape is still in its infancy, but soon there will be thousands of projects launching across various blockchains. Researching and evaluating new projects is time-consuming and requires an understanding of game mechanics, tokenomics, business models, etc. This is a daunting process for most community members who have families and busy lives outside of GameFi.
Luckily for our members (and their loved ones), we have a solution. Ancient8 Research has been established as a GameFi analysis portal, providing in-depth Game Reviews and accurate market analyses to the community based on a comprehensive evaluation process. Through our research, we aspire to enhance our members' decision-making and provide access to a broader range of opportunities. Ancient8 Research supplements the knowledge offered in Ancient8 Academy, guiding our guild towards a prosperous and sustainable future cultivated by wisdom and enthusiasm.
More blockchain and software products
The GameFi and NFT software we are developing will be the core accelerator in growing the Ancient8 ecosystem. Our management platform and future applications will elevate the standards of efficiency and transparency of the gaming guild industry. Ultimately, we all will lower the barrier of entry for our respective communities to begin their metaverse journey. Join our community today to get early access to Ancient8's new software products soon to be announced.
About Ancient8
Ancient8 is building a DAO that develops the infrastructure layer for GameFi, with focuses on the community and software. As Vietnam's largest blockchain gaming guild, Ancient8 enables everyone to build the Metaverse through scholarship, blockchain education, institutional-grade research, community, and blockchain software products. Ancient8's vision is to democratize social and financial access in the Metaverse, and is on a mission to reach, educate, and empower the next 100 million Metaverse citizens through the blockchain.
Ancient8 is backed by leading investors including Dragonfly, Pantera, Hashed, Mechanism, Coinbase, Alameda, Jump, Animoca, among others.
---
Join us in our journey to build the Metaverse!
Twitter | Discord | Website | Blog | Facebook | Telegram | YouTube