Ancient8 partners with CyBall to bring a new football-themed P2E game to the A8's Army
Ancient8 is expanding the blockchain game collection by partnering with CyBall, a football-themed play-to-earn game.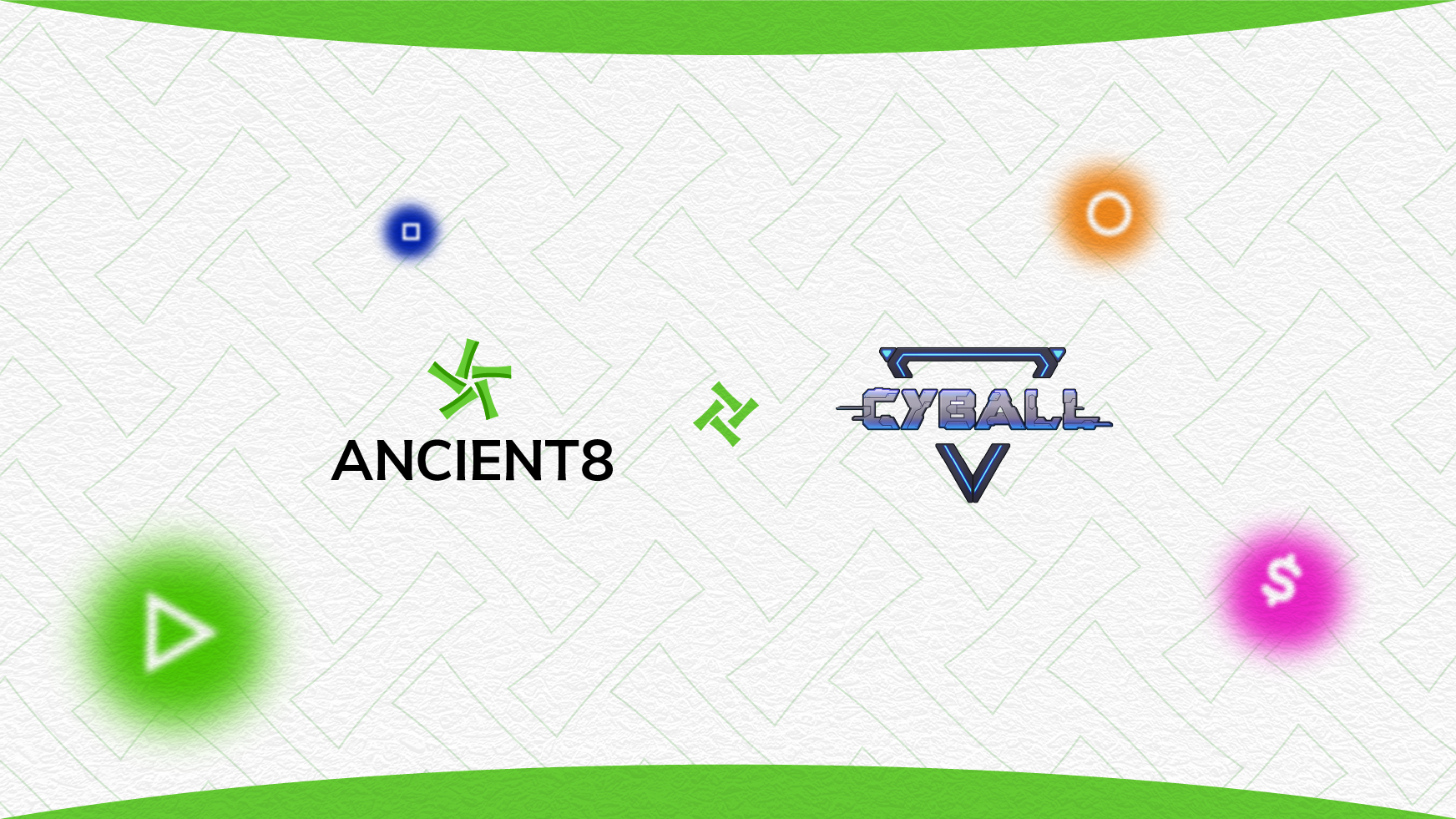 Connecting millions of gamers to millions of opportunities
Ancient8 Blockchain Gaming Guild, powered by the leading names in the industry, continues to support Vietnamese people to overcome the pandemic by granting numerous blockchain game scholarships. With the main goal of bringing Vietnam to become the leader in the GameFi industry, Ancient8 focuses on building the largest GameFi community, educating people about blockchain technology, and onboarding players to enjoy all of the hottest blockchain games.
Ancient8 witnessed many potential gamers with diverse backgrounds and warrior spirit during the 1st round of Ancient8 Army Recruitment. Thousands of Lac captains, skillful elite warriors, and soldiers are all eager to embark on the upcoming journey with us.
And now, Ancient8 has officially partnered with CyBall and invested in their Genesis Cybloc NFT packs, which will enable us to equip A8's warriors with new and shiny CyBlocs to enjoy CyBall game right from the moment it launches. .
Bringing the first ever football-themed play-to-earn game to Vietnamese gamers
As a blockchain and gaming bridge that ties the CyBlocs universe together, CyBall with metaverse covers all kinds of blockchain gamers.
CyBall features a Play-to-Earn mechanism in a gaming environment where players will get to see elements of gameplay from strategy to randomness (RNG). Players can use their CyBlocs in a wide range of game modes: Exhibition, League, Tournament and Training.
CyBall aims to produce an all-inclusive experience that allows gamers to carry out all necessary tasks right from the CyBall platform within their ecosystem: CyBall NFT Marketplace, CyLoans, and CyDex.
The next round of Ancient8 Army Recruitment is coming
Ancient8 and Cyball, which share the same vision of Play-to-Earn gaming, are partnering to expand the gate to the metaverse and close the gap between blockchain and traditional gamers. To bring that goal closer to reality,  Ancient8 has acquired part of CyBall's Genesis NFT Packs to diversify our in-game asset collection.
With this partnership, Ancient8 will grant at least 1000 CyBall scholarships in the next round of Ancient8 Army Recruitment. We are proud to bring this precious opportunity to our loyal Ancient8 members and enthusiastic gamers in our quest to conquer this new blockchain football-themed play-to-earn game. The recruitment, training, and selection of potential players for Ancient8 will be launched shortly with direct support from CyBall's founding team.
Giveaway up to $4000 from Ancient8
To celebrate this joyous event, Ancient8 and Cyball organized a giveaway to receive lucky gifts up to $4000, including 20 Common Packs CyBlocs and 1000 USDT for community members of CyBall and Ancient8. Each Genesis NFT iteml contains 3 CyBlocs, ready to start entering the Alpha version of CyBall later this year.
To participate in the giveaway, click this link and complete just a few simple steps here. Lucky gamers will be able to claim their rewards after CyBall ends the Genesis Drop phase. The event will end at 12:00 AM UTC, October 20th.
The next round of Ancient8 Army Recruitment for many new and popular games is coming very close with extremely attractive scholarships. Don't miss any news from Ancient8 in the near future!
About Ancient8
Ancient8 is Vietnam's biggest blockchain gaming guild built by Coin98 Labs, Kyros Ventures and Coin68 Media. The Guild aims to recruit millions of gamers and communities into the GameFi, NFTs and Play-to-Earn metaverse. Scholars under Ancient8 will not only have a chance to play the hottest games, but also to earn additional income for their contribution to the future of blockchain gaming.
Follow Ancient8: Website | Twitter | Discord | Facebook
About CyBall
CyBall — CyBloc Football, is a football-themed (US: soccer), NFT-based game with a Play-to-Earn model that allows users to collect, trade, mentor, and ultimately battling with CyBlocs. CyBlocs — Cyborg on the Blockchain, are CyBall's main asset and in-game characters, which are represented as NFTs on-chain. Initially, the game will launch on Binance Smart Chain, and will then find its way into the Solana ecosystem.