Ancient8 Dojo x Project Eluüne: The Aurahma Free Mint
At last, the doors of Ancient8 Dojo… are open!!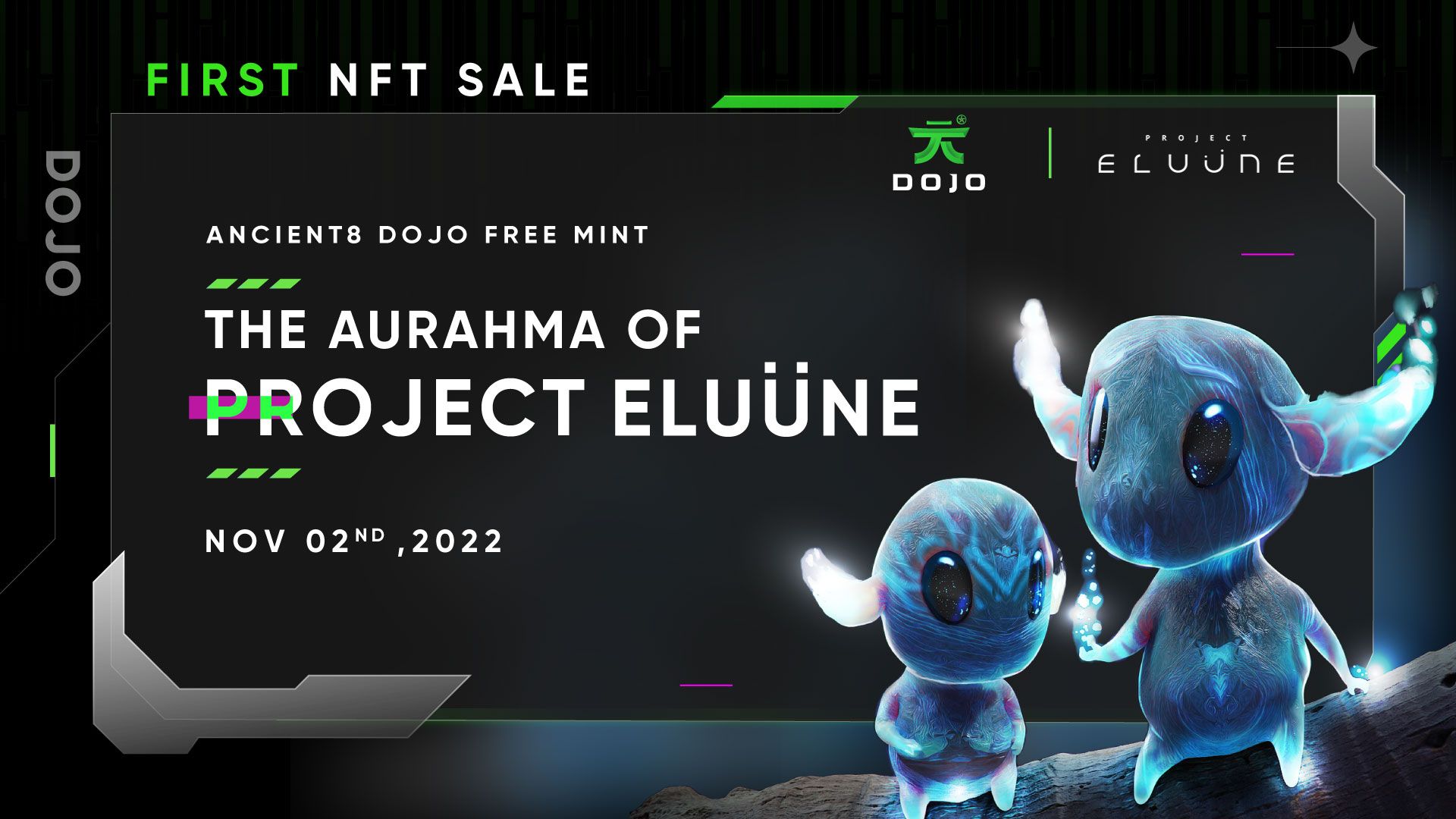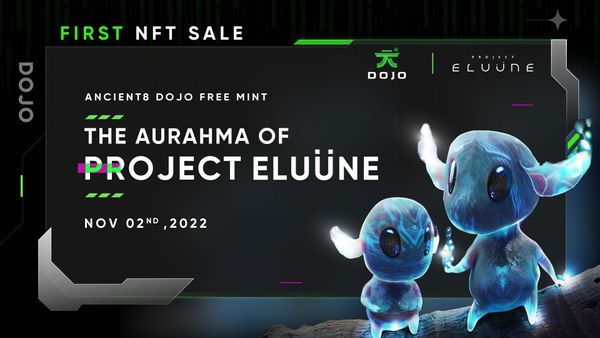 It's official: Ancient8 Dojo Launchpad is hosting a free mint for the Aurahma creature companions of Project Eluüne!
Project Eluüne: StarGarden is a team-based Web3 auto-chess battler with RPG mechanics. Players will recruit, craft, and train up powerful creatures alongside their team to outsmart increasingly challenging monsters and other players in their quest to explore the StarGardens and the mysterious sci-fi world of Eleriah.
The Aurahma of Project Eluüne
Aurahma are playful spirits found in the world of Eleriah. As your loyal companion while journeying across the Star Gardens, the Aurahma are fully customizable and will continually evolve as you deepen your connection with them. They're also quite useful and provide some valuable utility. Linking your Aurahma to Mission Control will unlock soulbound badges; these non-transferable items reflect all of your progress in Eleriah and will be visible through your Aurahma PFP. Upgrading your Aurahma will provide additional utility. Some will even become highly valuable factory NFTs that generate recurring gifts for their owners in the form of new NFTs, ingredients, and cosmetics.
Your Aurahma PFP will become the ultimate flex, proving your role as one of the earliest citizens of the StarGardens in a highly social game designed to be enjoyed for years to come.
The Aurahma Free Mint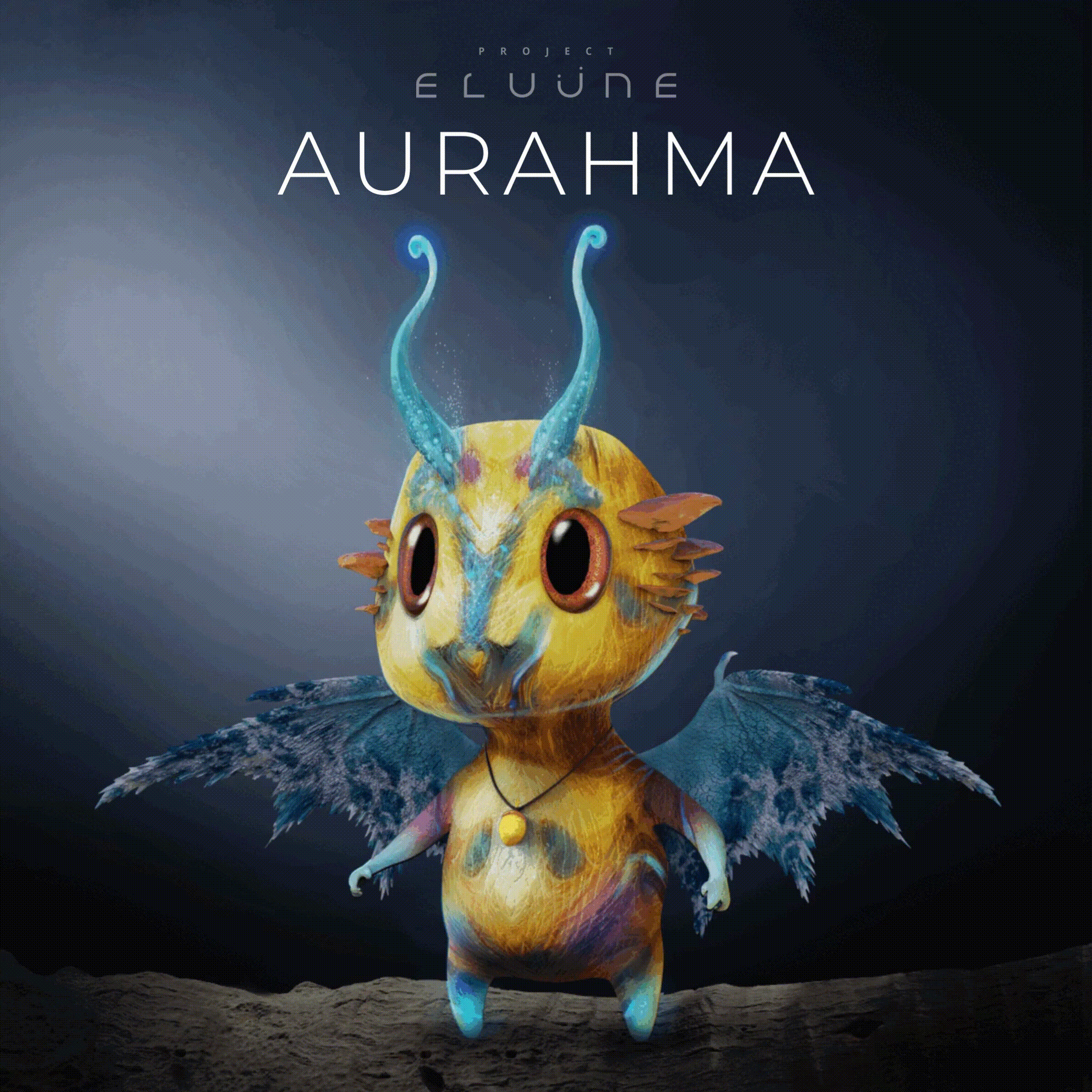 We're excited to offer our community the chance to mint one of the 300 Aurahma NFTs available to mint on Ancient8 Dojo for FREE!
The Aurahma Mint will have 2 phases: The FCFS Whitelist Sale and Public Mint.
FCFS Whitelist Sale
To maximize your chances of successfully minting an Aurahma, you'll have to participate in the FCFS Whitelist Sale. There are a total of 1,500 Whitelist spots. 1,200 of them will be awarded to those who complete six simple tasks in the Ancient8 Dojo x Project Eluüne - Gleam Whitelist Campaign, listed below.
You will have from 3:00 UTC, Oct 29 - 13:00 UTC, Oct 31 to complete these required social tasks:
Follow @ProjectEluune on Twitter
Follow @Ancient8_Dojo on Twitter
Retweet @Ancient8_Dojo on Twitter
Join the Project Eluüne Mission Control, and complete the three available tasks listed under the "Prime Missions" section in order to reach Level 1. Then, upload a screenshot of your level 1 profile to Gleam.
Submit your Ancient8 UID (EX: 62ea31e9d7a3cbde25c13baa) (less than 2 minutes to create UID)
Submit the Solana wallet address that you have connected to Mission Control website (Phantom wallet is recommended)
For detailed walkthrough on how to participate in this NFT Sale, check out our tutorial video at: https://youtu.be/M_Ak3I4Rtyw
The way the FCFS Whitelist Sale works is that everyone who completes the six required tasks will have a chance to receive an allowlist token which grants access to participate in the FCFS Whitelist Sale. They will also unlock 5 additional social tasks which are OPTIONAL. However, the more tasks you complete, the higher your chances of getting on the whitelist!
As for the remaining 300 spots on the whitelist… We have good news for Dojo badge holders! These remaining whitelist spots will be randomly distributed to 300 lucky badge holders! They will automatically receive an allowlist token to mint an Aurahma on Ancient8 Dojo in the FCFS Whitelist Sale.
Additional Details:
All whitelisted participants will be able to mint their Aurahma NFTs on Ancient8 Dojo on a first come first serve basis. Please remember to keep a little SOL in your wallet for gas fees!
Public Mint
If the 300 Aurahma are not sold out by the end of the FCFS Whitelist phase, the remaining Aurahma will be made available for anyone to mint in the Public Mint on a first come first serve basis.
Additional Details:
Note: With a supply of only 300 Aurahmas, there's a high probability that this free mint will sell out! Your best chance for minting an Aurahma will be during the FCFS Whitelist Sale.
So don't sleep! Jump on the Gleam campaign and join Mission Control to begin your journey with Project Eluüne, and we'll see you at the Dojo!
As an auto-chess battler MMORPG, gameplay in StarGarden is highly social as every aspect of gameplay encourages and incentivizes team cooperation and coordination. In their first NFT collection last year, Project Eluüne minted The Founding StarGardens at an initial price of 3 SOL. Their current floor price is 7.5 SOL.
The veteran team behind Project Eluüne raised $5M in seed funding in a round led by C2 Ventures. Other investors include Polygon, 6th Man, Lightspeed, Everyrealm, Morningstar, Avalaunch, Big Brain Holdings, Ancient8, etc.
Project Eluüne plans to launch a private Beta for StarGarden NFT holders by the end of next year, and has already launched an Alpha featuring Mission Control: a player passport that tracks progress and social status in the game. For more details about Project Eluüne, check out our Game Analysis report on Ancient8 Research.
Q&A Section
How will allowlist tokens be distributed?
The allowlist tokens will be automatically sent to your wallet if you qualify.
What do I do after minting?
At mint you will receive an NFT with a placeholder image and will need to go to the reveal site that will be launched at projecteluune.com after mint.
What is the total supply of the Founding Aurahma?
The total supply of Founding Aurahma is 17,000. Only 300 are being minted on Ancient8 Dojo. The majority of the total supply of Aurahmas will be released at a later date for use in the Prelude prize pool (earned by the community through participating in the Prelude Special Event) and for future releases and additional partner launches. Their current floor price is 1.25 SOL (Data as of Oct 28).
About Ancient8
Ancient8 is developing the infrastructure for GameFi, with a focus on software and community. Ancient8 is building GameFi Identity and Launchpad products to serve as the marketing distribution channel for GameFi and Metaverse projects to onboard millions of users. Ancient8 manages Vietnam's largest blockchain gaming guild, and enables everyone to build the Metaverse through blockchain software products, guild scholarship, blockchain education, institutional-grade research, and community. Ancient8's vision is to democratize social and financial access in the Metaverse.
Join us in our journey to build the Metaverse!
Twitter | Discord | Website | Research Portal | Blog | Facebook | Telegram | YouTube | Ancient8 Dojo