Why Ancient8 is bullish on CyBall
Hello the citizens of the Metaverse! Today, Ancient8 is excited to share our viewpoint on Cyball – a great partner of Ancient8 and also a blockchain game about soccer that is greatly expected by the gaming community at the moment.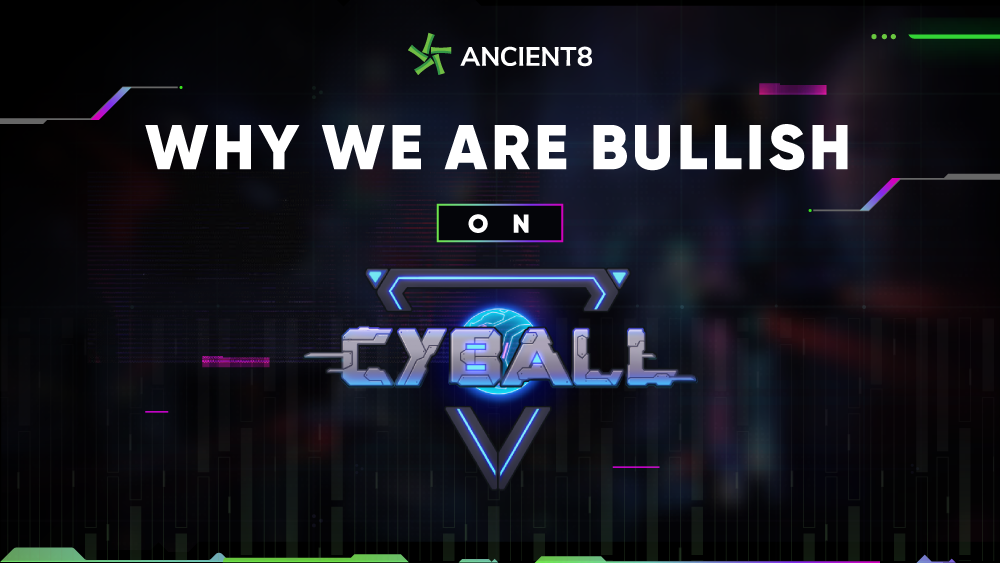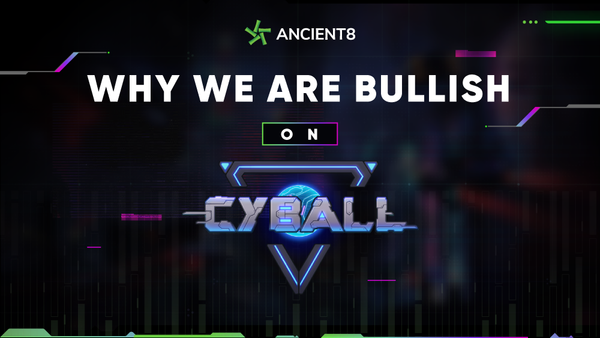 Hello the citizens of the Metaverse! Today, Ancient8 is excited to share our viewpoint on CyBall – a great partner of Ancient8 and also a blockchain game about soccer that is greatly expected by the gaming community at the moment.
Ancient8 was one of CyBall's first Gaming Guild partners. After a long time working with the CyBall team, Ancient8 has been greatly impressed by what the team has been, is and will contribute to the GameFi field, in particular, and the Metaverse field, in general. CyBall has indeed proven to be not only a partner but also the reliable companions that Ancient8 was lucky to have in our quest to conquer the Metaverse.
CyBall's Overview
CyBall is a soccer-themed play-to-earn game where users can create teams of NFT players (known as CyBlocs) to train and compete against each other in soccer matches.
CyBall is inspired by Cyborg, a sci-fi concept that envisions a future where humans combine with machines to become mechanized creatures. These mechanized creatures will appear on soccer fields and compete against each other. By combining CyBorg and soccer, CyBall has created a very new game with the combination of futuristic and sporty elements.
CyBall's distinct diversity
At the moment, most play-to-earn games have quite simple and even boring gameplay. Players often play games with the intention of making profit but have not really enjoyed the fun that the game brings. This has caused most games to have neither a sustainable competitive advantage nor long-term retention of players.
However, CyBall promises to make a difference. In addition to playing games to earn money, players can also experience interesting things from the rich diversity in CyBall.
This can be seen right from the NFT system. Each CyBloc is made up of 3 main elements: Class, Trait and Skill. Class includes 5 levels from Bronze to Legendary with different rarity. Skill includes 6 different soccer skills, each CyBloc owning different skill stats. Moreover, CyBall has up to 50 various traits, each of which will bring a unique advantage to that CyBloc. The unique combination of different classes, traits, and skills will create various soccer teams of unique styles and strategies in CyBall.
Besides, CyBall is also different by its complex and diverse gameplay with 4 main game modes (Exhibition, League, Tournament, and Training) and various strategies (Defensive, Offensive, Balanced). Each mode or strategy will have its own advantages that players need to learn, understand, and master to improve the team's performance.
The diverse features of NFTs as well as the complex gameplay will be CyBall's competitive advantage compared to most other play-to-earn games at the present time and also an important factor to retain gamers.
All-inclusive ecosystem
In addition to the gameplay aspect, CyBall also builds such an all-inclusive ecosystem with community-oriented features to support the general development of games, such as Cyball NFT Marketplace, CyDex and most especially, CyLoans.
CyLoans is a unique feature that allows users to lend Cyblocs to others to play and share in the profits earned in the game. From the perspective of a Gaming Guild, Ancient8 finds that this is an extremely useful feature in management and operation. CyLoans has introduced an almost automated scholarship-university system.
Thanks to this CyLoans feature, now not only the big Gaming Guilds can provide scholarships, but small individual investors can also be a scholarship provider and run their own gaming guild.
The easy connection between investors and game players will help CyBall be widely accepted and quickly expand its market. This provides a win-win-win model for investors, game players and product developers.
Team of experts
The above-mentioned ideas are all very potential but will not be possible without a well-experienced team. Fortunately, this is something we can completely count on the CyBall team. CyBall's members are all individuals with long-term experience in the gaming industry as well as blockchain.
Aaron - Co-Founding Advisor: Aaron used to be Product Manager at Animoca Brands - a venture capital considered the largest in the GameFi field. He also has more than 10 years of experience in game development.
Long Vuong - Co-Founding Advisor: Long Vuong is currently the CEO and Founder of Tomochain. He has worked as an advisor for many blockchain projects thanks to his in-depth knowledge of economics as well as blockchain.
Tin Tran - Co-Founder: Tin is a DeFi researcher. He has contributed to many projects in the DeFi field with his ideas. Tin is also secretly an experienced ape sitting near the top of the DegenScore leaderboard.
Kevin Bui - Co-Founder: Kevin is an expert in marketing and branding. He used to be very successful in many areas of his previous businesses.
With a combination of top experts in different fields such as gaming, blockchain, branding and marketing, the CyBall team is doing a great job building and developing the product.
After a long period of observation, Ancient8 found that Cyball has been very meticulous in product design and construction. CyBall could have completely launched the game earlier during the period of the hottest new trend of GameFi, but instead, CyBall chose to stay behind to focus on the perfection and quality of the product.
Besides, CyBall also received support from many famous individuals in Crypto and GameFi fields such as Trung Nguyen (Axie Infinity), Darren Lau (The Daily Ape), Tascha Punyaneramidee (Alpha Finance), Loi Luu (Kyber Network), Kevin Lu (ex-Band protocol) and Or Perelman (Chromia). These experts will certainly make valuable contributions to Cyball.
The above characteristics about CyBall are just one of many potential unique features that CyBall has and promises to bring to us. This is also the reason why Ancient8, as a Gaming Guild and a companion, fully believes in the potential and impressive development of this game in the future. Ancient8 hopes that CyBall will bring a difference, a new and outstanding breakthrough in the field of Gamefi in particular and Metaverse in general.
About Ancient8
Ancient8 is building a DAO that develops the infrastructure layer for GameFi, with focuses on the community and software. As Vietnam's largest blockchain gaming guild, Ancient8 enables everyone to build the Metaverse through scholarship, blockchain education, institutional-grade research, community, and blockchain software products. Ancient8's vision is to democratize social and financial access in the Metaverse, and is on a mission to reach, educate, and empower the next 100 million Metaverse citizens through the blockchain.
Ancient8 is backed by leading investors including Dragonfly, Pantera, Hashed, Mechanism, Coinbase, Alameda, Jump, Animoca, among others.
---
Join us in our journey to build the Metaverse!
Twitter | Discord | Website | Blog | Facebook | Telegram | YouTube