WEB3 MATCHING - Exclusive Web3 Event by AWS, BNB Chain and Kyros Ventures
For the very first time in Southeast Asia (SEA), an exclusive international event - bringing together the most prominent VC funds and the top Web3 startups in the region - will be held in Ho Chi Minh City, Vietnam.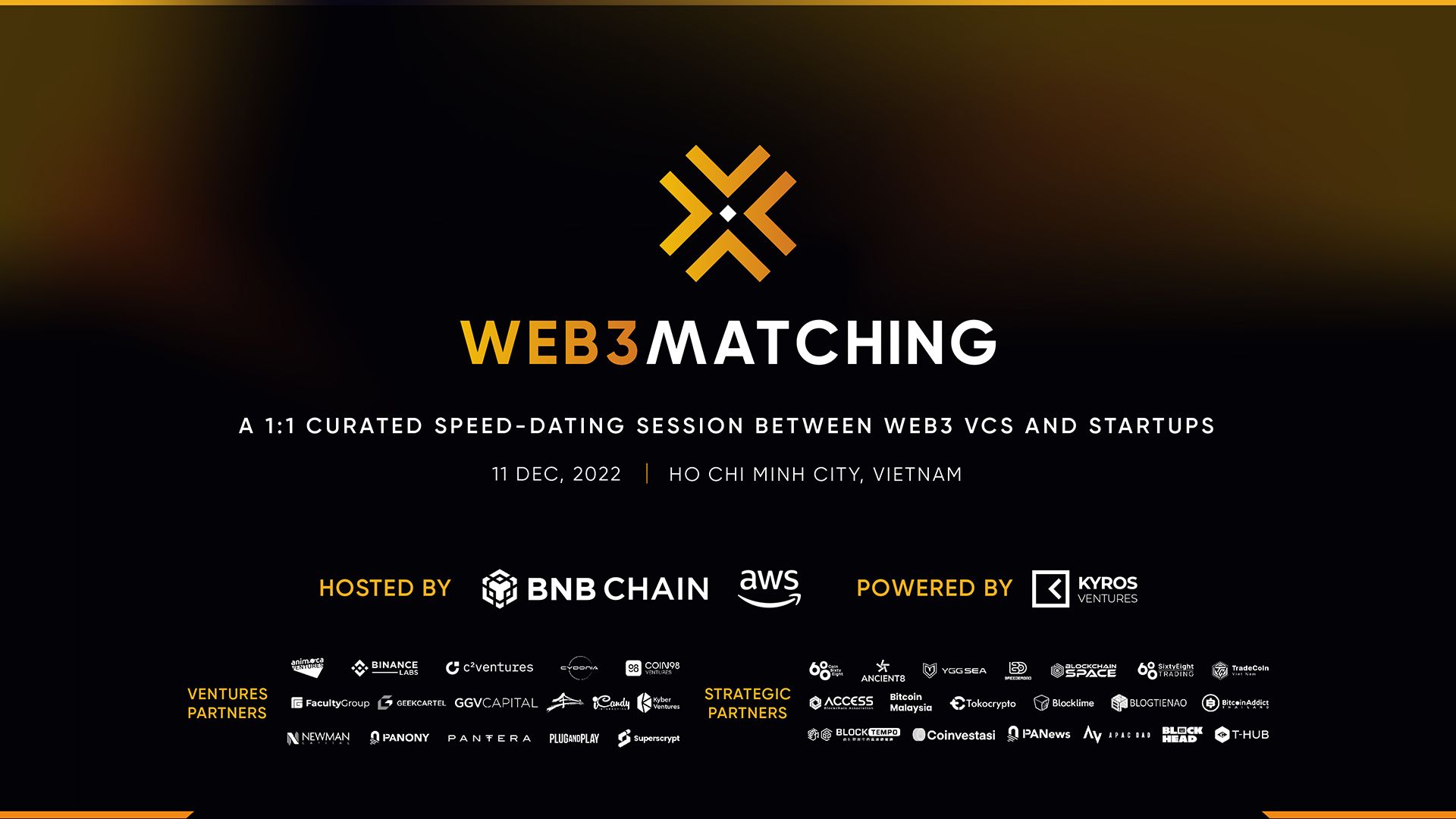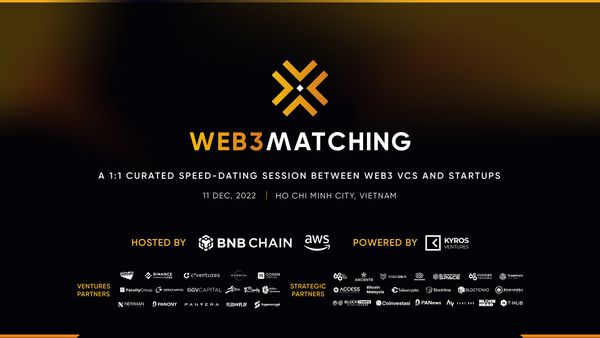 Introduction
This is the first-ever offline investor-startup speed-dating event in Vietnam, where startup founders will get an opportunity to meet senior representatives from the top world-leading VCs in a 1:1 curated manner.
Not only fostering industry partnerships and creating more unicorn startups for the future of Web3, the event is also an opportunity to unleash the potential of blockchain for major industries around the world.
Web3 Matching is hosted by Amazon Web Services (AWS) and BNB Chain, powered by Kyros Ventures and backed by renowned industry partners.
What will this event offer you?
- Save time to meet the right investor and startup;
- A most curated conversation that leads to potential collaboration with prominent VCs and industry players;
- Feedback and learnings across Southeast Asia;
- Branding and awareness, spotlight through this initiative.
The most anticipated section of the event will be the conclusion of private Web3 Matching Day & Networking Night, where the implementations of builders will be demonstrated to prominent Web3 funds in the world. We also help startups in getting VCs funding from our huge network. If you are a real BUILDER, then grab your chance, prove yourself, upgrade your project power and join us!
Please note that only a select group of SEA projects with the necessary criteria will be invited to participate in the Web3 Matching Day in Ho Chi Minh, Vietnam. Onboarding processes and detailed instructions will be sent through emails to shortlisted applicants.
Organizers, Ventures, and Community Partners
- Amazon Web Services (AWS): A renowned Internet infrastructure provider with the mission to empower the developers in this space to redefine the Internet by helping them build their solutions with more effective tools and world-class security. AWS has the broadest and deepest sets of solutions to suit the wide variety of Web3 companies' infrastructure needs.
- BNB Chain: One of the most popular blockchains in the world, dedicated to delivering its core infrastructure necessary for mass adoption, and always remains as a community-first and open-source ecosystem built on a permissionless and decentralized environment.
- Kyros Ventures: The gateway to the entirety of the blockchain landscape in Vietnam, which sets its goal to educate the growing crypto population, and to help as much development in the Web3 sector as possible through incubation for startups in the space.
Exceptionally, the event will include the participation from Binance Labs, Pantera, Mechanism Capital, Animoca Ventures, C2 Ventures, Newman Capital, ICandy, Faculty Group, GeekCartel, and Cydonia Ventures.
About this event
- Format: Hybrid (online-offline)
- Date & Time: 11 Dec 2022
- Location: Ho Chi Minh City, Vietnam.
- Learn more: http://web3matching.io
Event Timeline
- November 11th: Open application form across the SEA market
- November 11th - 30th: Submit application
- November 30th: Application deadline
- December 5th: Result announcement
- December 7th: Online consultation session
- December 11th: Web3 Matching Day
01:30 - 05:30 PM: Web3 Matching
06:00 - 09:00 PM: Private Networking Dinner
>>> Register HERE: