Turn Your Gaming Adventures Into Epic Rewards - Score $50,000 Prize Pool with Space3!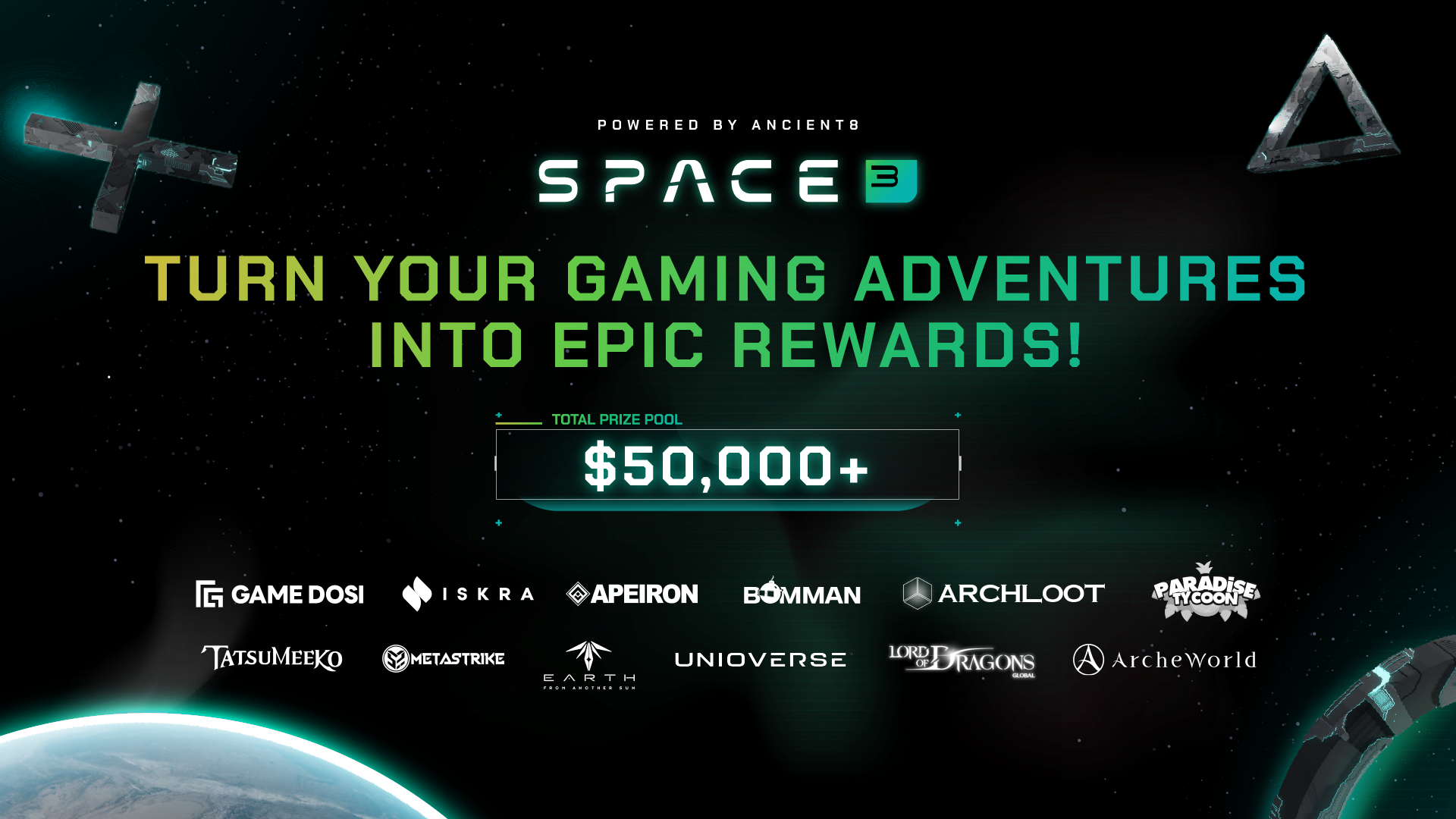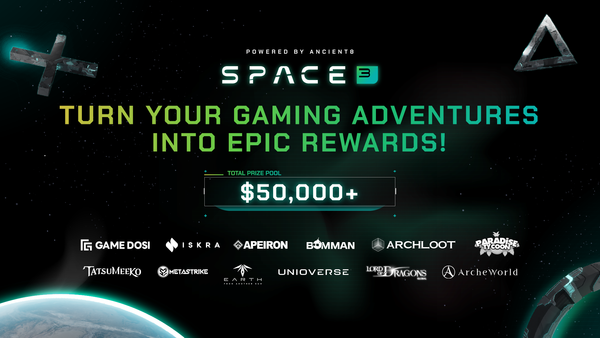 Get ready to blast off into a new era of gaming! We're thrilled to announce that Space3, the 1st Web3 Gaming Loyalty Platform, is officially launched. To celebrate this momentous occasion, we're excited to launch our Turning Your Gaming Adventures Into Epic Rewards campaign! With over 20 partners and rewards up to $50,000, this is a launch event you won't want to miss. Embark on an adventure with Space3 to empower gamers worldwide with stimulating experiences and create value based on your contributions.
Period: April 10, 2023 1:00 PM (UTC) - May 7, 2023 1:00 PM (UTC)
Total rewards: $50,000+

Campaign Overview
Ancient8 has partnered with up to 20+ selected Web3 Gaming partners to launch the "Turning Your Gaming Adventures Into Epic Rewards'' campaign, consisting of a series of 40+ missions divided into 2 Packs, with 20+ missions in each Pack released every 2 weeks. From April 10 to May 7, users can interact and immerse in games via participating in complete Missions and Daily Check-in to accumulate CCP and Badges, which can be used to redeem valuable retroactive items on the Rewards Center.
The "Turning Your Gaming Adventures Into Epic Rewards'' campaign has brought together prominent Web2 gaming KOL and some of the top Web3 gaming partners in the industry for Pack 1. These partners include DOSI Game, ISKRA, Lord of Dragons, Apeiron, Earth From Another Sun, Tatsumeeko, Archloot, MetaStrike, Paradise Tycoon, Unioverse, Bora - ArcheWorld and Bomman. By collaborating with these top Web3 gaming partners, Space3 is poised to deliver an unforgettable gaming experience that is accessible to all users. Stay tuned for the upcoming announcement of Pack 2 partners.
The campaign's timeline is as follows:
First Pack: April 10 1:00 PM (UTC) - April 23, 2023 1:00 PM (UTC)
Second Pack: April 24 1:00 PM (UTC) - May 7, 2023 1:00 PM (UTC)

Unlock a Treasure Trove of Rewards worth $50,000!
Total rewards: $50,000+
$40,000+ worth of incredible and plentiful items on Space3 Rewards Center, with each item having a value ranging from $10 to $100. These items include a variety of appealing rewards such as Steam cards and Riot cards worth $10 to $50, discounted NFTs (up to 50%), coveted NFTs Whitelist Slots, as well as exclusive raffle tickets to join the lucrative reward pools offered by Ancient8 and its partners.
An exclusive reward pool of $10,000 ($5,000/pack) for Lucky Raffle Tickets holders, who can earn the ticket by redeeming in Space3 Rewards Center using CCP.
Note:
The Lucky Raffle Ticket runs on Binance Smart Chain. BUSD rewards for Winning Lottery Ticket holders are sent via BNB Chain.
The results of the Lucky Raffle will be announced on April 23 at 3:00 PM (UTC).
Only users who have integrated their EVM wallet onto their Ancient8 ID and hold Lucky Raffle Tickets will be eligible to participate in the raffle. The more Tickets accumulated, the higher the chances of earning rewards.

Mission Types and Entries
The missions are divided into two entries:
Community Onboarding: involves following and interacting with partners' social media channels
Gaming Adventures: requires completing partners' customized missions such as social media content creation, in-game experiences, Badge/NFTs holding, and more.
Participants who complete all entries of a mission will be eligible for the mission's reward raffle and earn CCP according to the rules.
Completing Community Onboarding earns 3.5 CCP
Completing Gaming Adventures earns 9 CCP
Participants can also attend Daily Check-in activities in Space3 to earn additional CCP, up to 30 CCP, and Lucky Raffle Tickets to share the prize pool of $10,000 (Stablecoin, $20 USDC /winner).
How to Participate in Space3 Missions and Redeem Rewards
Upon accessing the Space3 platform, users can participate in the Daily Check-in. This activity rewards users with CCP, mystery items, and other valuable rewards. Consistently completing streaks without interruption also gives users access to undisclosed rewards of considerable worth.
How to Join a Mission
Step 1: Acess space3.gg then click on "Login A8 ID" located in the top right corner of the page.
Step 2: Choose to Login with Email / Discord / Twitter or with your Wallet (To fully engage with the Space3 community and unlock exclusive features and rewards tailored to your interests, please provide all your information).
Step 3: Click on "Missions" in the top left corner to see the available missions.
Step 4: Choose a mission and read the details carefully, including the tasks, requirements, and rewards. Use the search bar to find specific missions.
Step 5: Click "Get Started" to complete all mission tasks, which may include social engagements, in-game activities, and creative problem-solving. Then click "Verify". Giving each task the attention it deserves increases the chances of claiming the reward and earning valuable CCP and NFT Badges. Once finishing all missions, click "Claim" to receive rewards.
Step 6: Stay up-to-date on the mission progress and ensure all requirements are met and necessary information is provided before the deadline to claim the reward.
Note: Some missions may require manual verification, therefore, we advise all users to regularly check and verify the status of their mission to ensure that all requirements have been met and all necessary information has been provided before the deadline. While our system is designed to operate in real-time, certain verification processes may require additional time to ensure accuracy and prevent errors.

Redeeming Items at the Rewards Center
Step 1: Acess space3.gg then navigate to the top left corner menu of Space3 and select "Rewards Center."
Step 2: Browse through the selection of rewards by using the search bar or filter options.
Step 3: Click on the item to view the details. Be sure to carefully read through the requirements and instructions before proceeding.
Step 4: Upon selecting the "Redeem" button, the user is prompted to confirm their decision and provide any additional information required, such as their shipping address. Once the redemption process is successfully completed, a confirmation message from Space3 will be sent to the user. Depending on the type of reward, the user may receive it instantly or receive it after a certain period of time, and for physical items, a tracking number will be provided for shipment.
Note: Ensure all requirements are met and accurate information is provided during the redemption process. If any issues are encountered, users may contact the Space3 support team for assistance.
Don't miss out on this exciting opportunity to participate in the "Turning Your Gaming Adventures Into Epic Rewards'' campaign and earn rewards on Space3!
About Space3
Space3, powered by Ancient8, is the 1st Web3 Gaming Loyalty Platform that serves as the Third Space in gamers' daily lives. It offers a comprehensive infrastructure for traditional and web3 gaming entities to build immersive communities, gamify members' experiences, and spread brand culture. Members can accumulate social and financial value, build identity in the metaverse, and access exclusive rewards through the unique Community Credit Points system. With Space3, gamers and gaming entities can unlock new dimensions of engagement, loyalty, and growth beyond the limitations of existing community platforms.

Twitter | Discord | Website | Blog | YouTube | Facebook | Telegram | Gitbook