Soldier and Commander Saint Giong NFT Minting Event: Whitelist Results Announcement!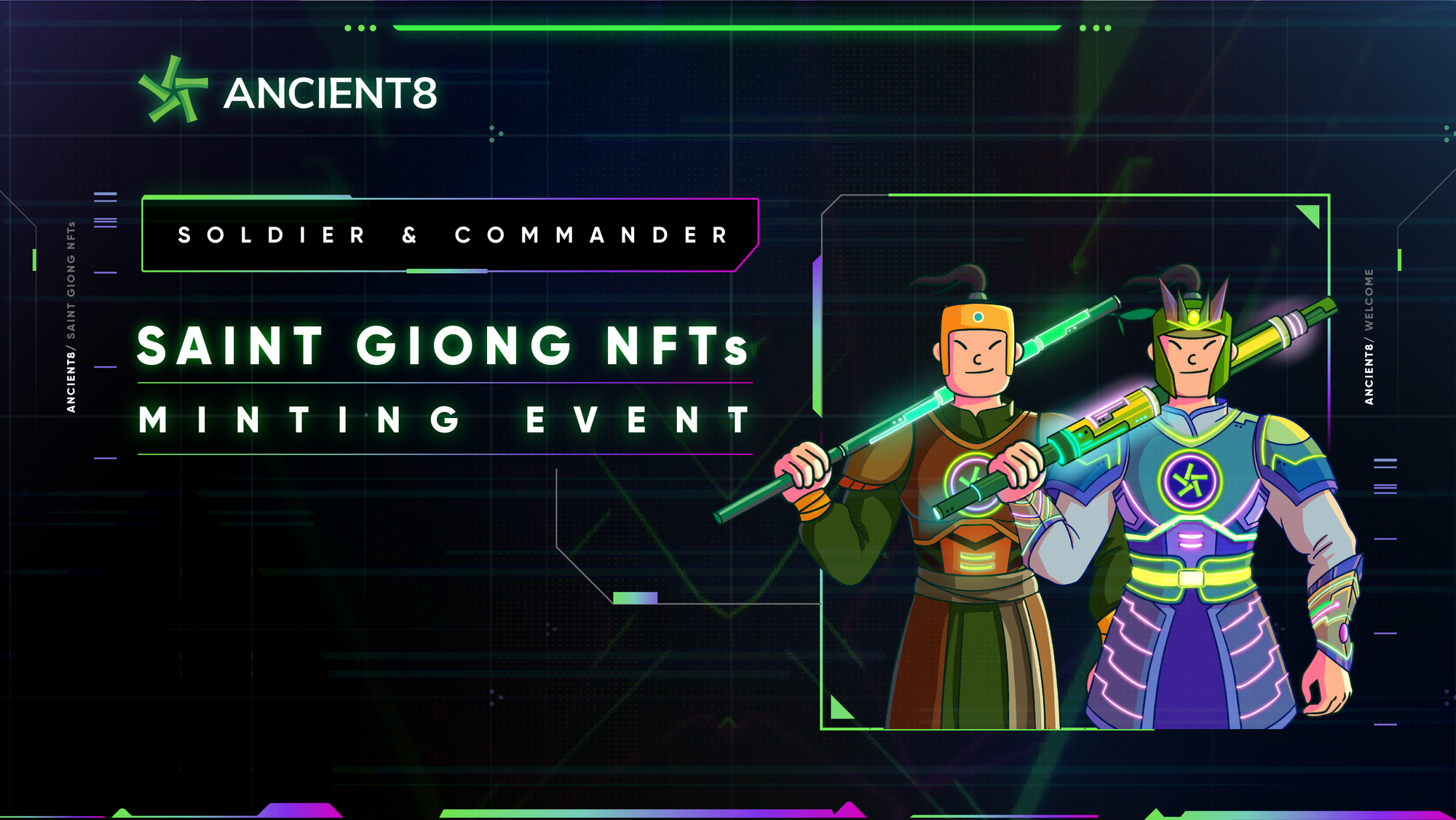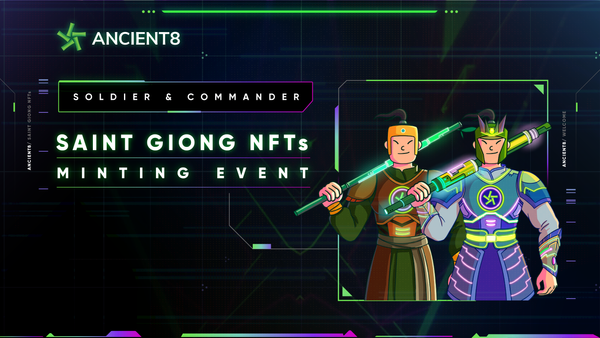 Ancient8 is delighted to announce Ancient8 Soldier and Commander Saint Giong NFT whitelist results ahead of the highly anticipated Ancient8 NFT minting event today, January 29th at 2:00 pm (UTC).
What is Saint Giong NFT?
Ancient8's first-ever NFT collection, minted on Solana. Saint Giong, one of the four immortals of Vietnam's history, embodies the Vietnamese people's spirit of bravery and heroism in overcoming adversity and hardships. Through the spirit of this image, Ancient8 aspires to portray our guild culture, amongst Ancient8 scholars and the entire community. Saint Giong NFTs are divided into three classes with respective rarity as follows:
General: 88 NFTs (1% of NFT total supply)
Commander: 888 NFTs (10% NFT total supply)
Soldier: 7,912 NFTs (89% NFT total supply)
Ancient8 is devoted to delivering sustainable values to the community through the Saint Giong NFT with benefits including:
Priority in joining Ancient8 Scholarship Programs
Mystery drops for Saint Giong NFT owners
Whitelist for Ancient8 Products and Events
Owning a unique identity in the Ancient8 community
Exclusive Ecosystem Benefit from Ancient8
Badge with access to exclusive channels on Ancient8 Discord Server
Soldier and Commander Whitelist Result Announcement
The heat of the Ancient8 Saint Giong NFT event has made up a delightful week within the Ancient8 community. We sincerely appreciate the incredible engagement and immense support from the Ancient8 community of soldiers, with a record-breaking number of over 10k participants which intensively bolsters our enthusiasm to reach, educate, and empower the next 100 million Metaverse citizens through the blockchain.
The long-awaited moment has come! Check out the Whitelist Result in the following document to see how lucky you are. Congratulations to all the winners!
Note: each wallet address can only mint 1 Saint Giong NFT including Soldier, Commander and General. By minting your Saint Giong NFT in this round, you will not be eligible for minting General Saint Giong NFT class in the near future even if you are whitelisted. Please consider carefully before participating in this round.
How to mint your NFT?
The A8 Soldier & Commander Saint Giong NFT will be officially opened for minting today at 2:00 pm UTC. For the lucky soldiers who are whitelisted, please have a look at the step-by-step instructions below to understand how the minting process works.
1. Visit ​​https://nft.ancient8.gg/ and select "MINT YOUR A8 NFT" on the right corner of your screen.
2. Connect your wallet (Phantom, Coin98 or Sollet are recommended).
3. Select "Mint" and approve your wallet to start minting A8 NFT.
4. Congratulations, you have minted your A8 NFT which is displayed on the "Gallery" tab on the right corner of your screen.
5. Enjoy your infinite benefits at the Ancient8 Gaming Guild community!
For thorough instruction on how to set up a wallet and the step-by-step minting process, check out the below video from Alice, our Brand Ambassador!
Once again, we proudly express our gratitude to all the participants and supporters for accompanying us from the beginning. But soldiers, this is only the beginning of our adventurous journey into the Metaverse. The best is yet to come!
About Ancient8
Ancient8 is building a DAO that develops the infrastructure layer for GameFi, with focuses on the community and software. As Vietnam's largest blockchain gaming guild, Ancient8 enables everyone to build the Metaverse through scholarship, blockchain education, institutional-grade research, community, and blockchain software products. Ancient8's vision is to democratize social and financial access in the Metaverse, and is on a mission to reach, educate, and empower the next 100 million Metaverse citizens through the blockchain.
Ancient8 is backed by leading investors including Dragonfly, Pantera, Hashed, Mechanism, Coinbase, Alameda, Jump, Animoca, among others.
---
Join us in our journey to build the Metaverse!
Twitter | Discord | Website | Blog | Facebook | Telegram | YouTube