How to purchase Axie Pet with VND on Binance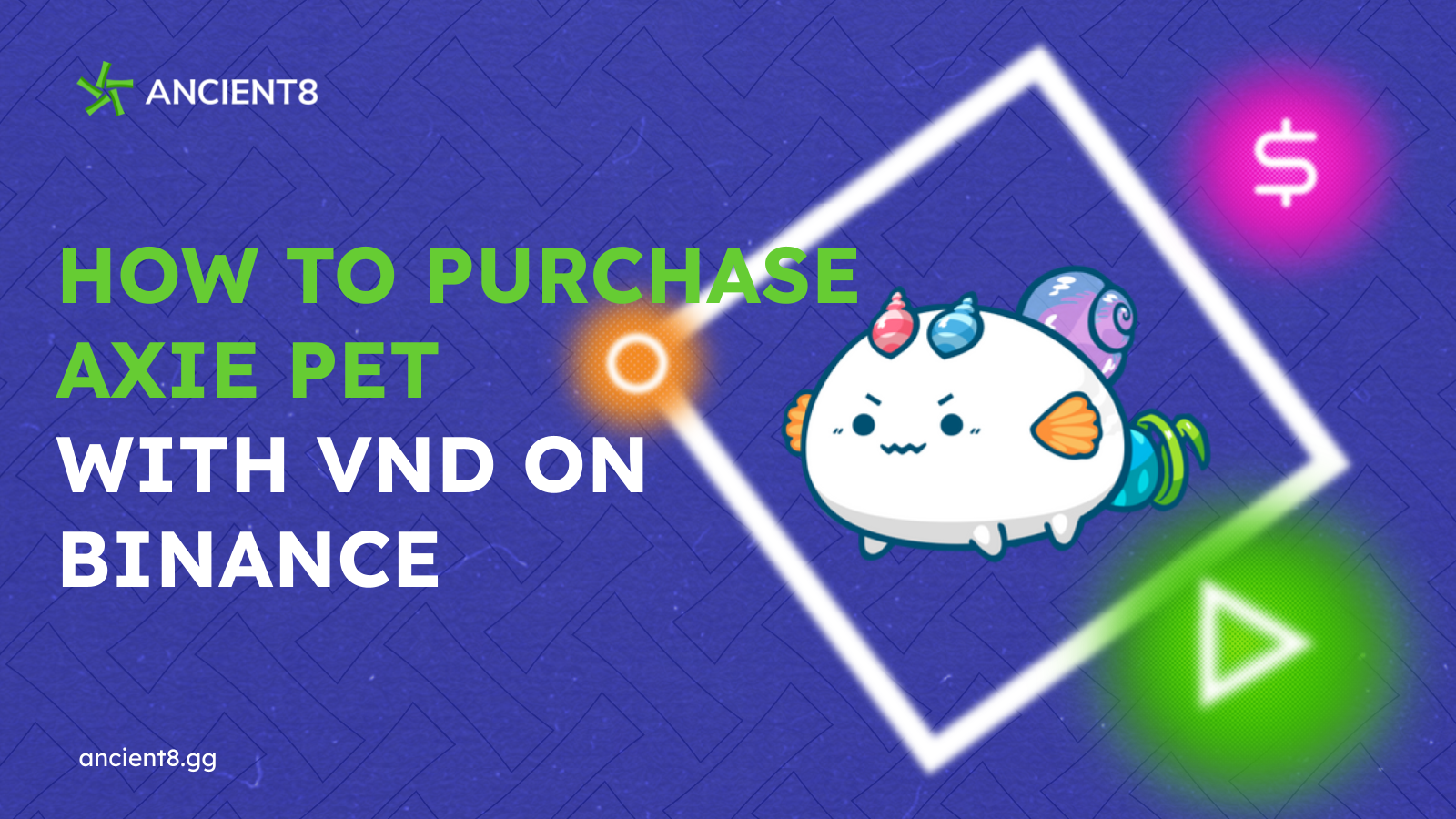 In this article, Ancient8 will share how to buy Axie Infinity pet with VND.
Here's everything you'll need to purchase an Axie Infinity pet.
1 - Binance Account
This will be the beginning of the story, when entering the cryptocurrency market you need to have your own Binance account. Find out details here.
From Binance, you can use cash to buy cryptocurrencies for playing Axie, such as: Ethereum (ETH)
To use cash to buy cryptocurrency via Binance P2P, read the details here.
Once you buy ETH, you will be able to transfer ETH from Binance to your Metamask wallet.
Note: When withdrawing from Binance to Metamask, you will need to pay a network fee, so please note that buying more ETH than the amount you need if you want to participate in Axie Infinity.
2 - Metamask Wallet
Metamask Wallet is a wallet used to hold cryptocurrencies, in this case ETH.
Learn how to download and use Metamask here.
Note: When you convert ETH from Metamask wallet to WETH in Ronin wallet to prepare to buy Axie Pet, you also need a small fee for the transaction (in ETH), so please be careful to buy more ETH than the amount you need if you want to join Axie Infinity.
All activities on Metamask wallet will require ETH as a transaction fee, so make sure your Metamask wallet always has ETH!
3 - Ronin Wallet
Ronin wallet will act as a gateway to Axie Infinity, after you finish setting up the Ronin wallet, you can play Axie Infinity.
Learn how to set up a Ronin wallet here.
Note: Ronin Wallet is the wallet that will be used to store your Axie Pet and SLP (profit from game) tokens, so when creating a Ronin wallet, be careful with the Secret Recovery Phrase because this will be the key, unique key to login to the wallet. If you forget or lose or even worse, give this Secret Recovery Phrase to someone else, you will most likely lose all the assets in your wallet (Pet Axie, SLP and WETH).
The funds flow will be from Binance > Metamask > Ronin and vice versa. Therefore, the above 3 elements are extremely important when participating in Axie Infinity.
Process
You must transfer USDT from Funding Wallet to Fiat and Spot Wallet after successfully purchasing USDT on P2P.
Select Wallet > Wallet > Select Transfer > From Funding, To Fiat and Spot > Select USDT > Enter the amount of USDT you want to transfer > Confirm
After the money has been transferred to the Fiat and Spot wallet, you need to buy ETH. Select Trade > Classic.
In the search section, enter "ETH" > Select ETH/USDT.
Select Market > Enter the amount of ETH you want to buy > Click Buy ETH
After buying ETH, return to the Wallet. Look at the Ethereum (ETH) section, you will see the balance and then select Withdraw.
Go to your Metamask wallet as the installation instructions above, and copy the wallet address that looks like the one in the image. Return to Binance and paste the address into the Address bar.
Select ERC20 > Enter the amount of ETH you want to withdraw. Then press Withdraw.
Binance will require you to provide a secure number derived from your email, phone number, and Google Authenticator. After you've entered enough information and clicked Withdraw, you'll be able to successfully transfer funds from Binance to Metamask.
Visit https://marketplace.axieinfinity.com/ after receiving ETH in Metamask. Select Login > Choose Ronin Wallet as your login method > Confirm.
After login, go to the upper left corner > Select Bridge.
Select Deposit
Fill in the information: Ronin address (copy the wallet address and paste it in), Asset: ETH, Amount: enter the amount of ETH you want to deposit. Please ​​note that you must leave an amount of ETH in Metamask for the transaction fee.
Click Confirm, Metamask window will show up, continue to click Confirm.
After transferring ETH from Metamask to Ronin Wallet, all you have to do now is go to the Marketplace and buy Axie.
Wish you find a good Axie squad!
About Ancient8
Ancient8 is Vietnam's biggest blockchain gaming guild built by Coin98 Labs, Kyros Ventures and Coin68 Media. Ancient8 aims to recruit millions of gamers and communities into the GameFi, NFTs and Play-To-Earn Era. Ancient8's scholars will not only have a chance to play the latest and trending blockchain games, but also to earn an income for their contribution to the future of the Metaverse.