Complete guides on How to register a Thetan Arena account for beginners
Thetan Arena is a blockchain-based MOBA (Multiplayer Online Battle Arena) game. The game is developed by WolfFun, a Vietnamese company. You and your teammates will each have one hero to fight in Thetan Arena's mortal arena.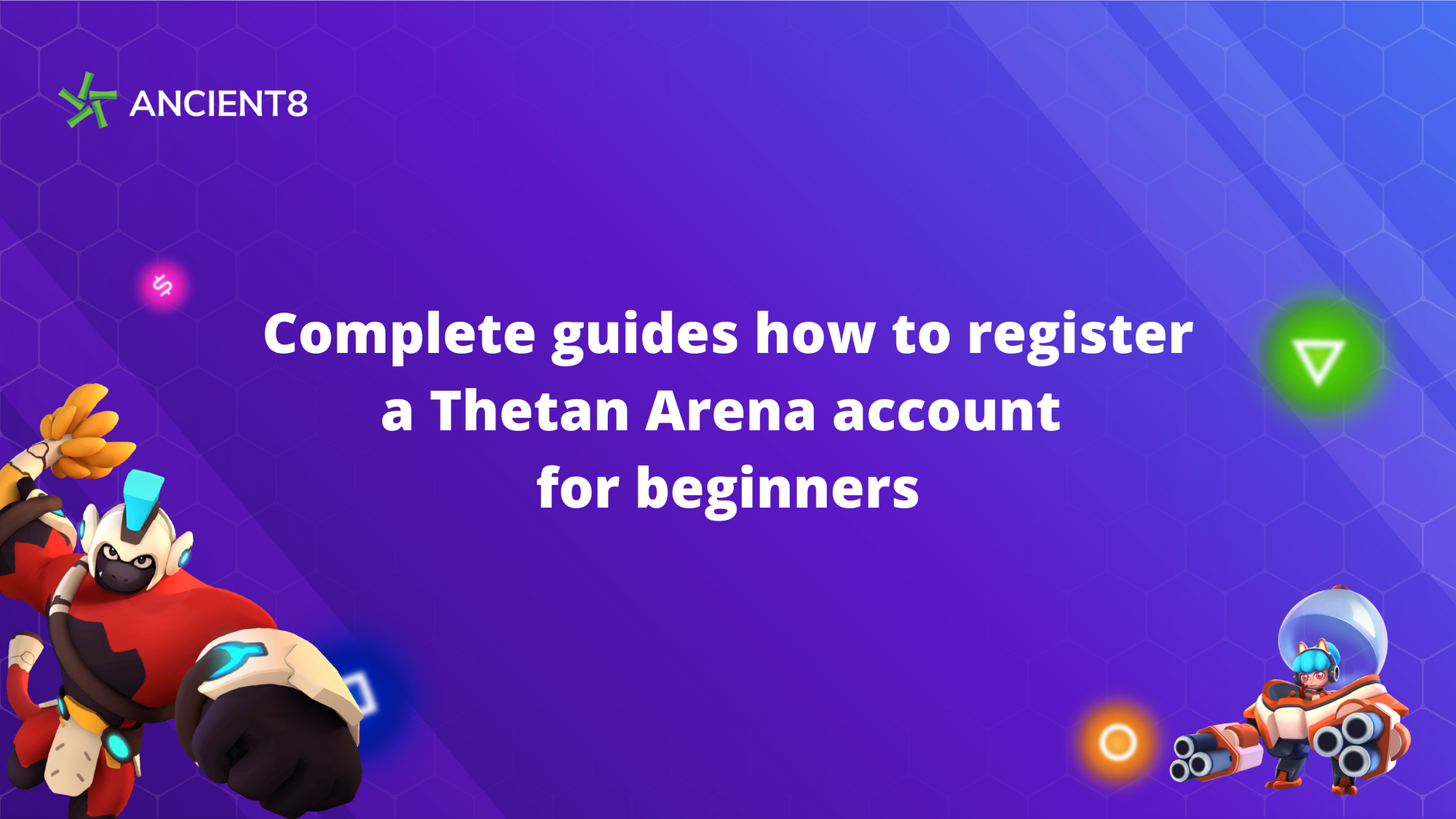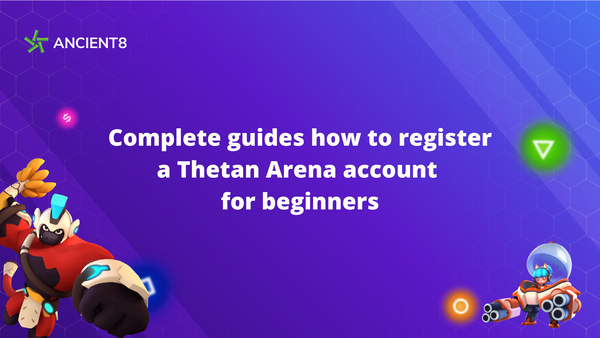 What is Thetan Arena?
Thetan Arena is a blockchain-based MOBA (Multiplayer Online Battle Arena) game. The game is developed by WolfFun, a Vietnamese company. You and your teammates will each have one hero to fight in Thetan Arena's mortal arena.
Thetan Arena is a MOBA game with gameplay mechanics similar to League of Legends: Wild Rift. To get an overview of the game, you can look up how to play traditional games.6
Before you begin playing NFT Thetan Arena, here are few things you should know.
Before you begin playing Thetan Arena, a blockchain MOBA game, you must first gain a basic understanding of how blockchain games work. Here are some things you should know.
Create a Metamask Wallet and link it to your Theta Arena account.
Create Metamask wallet on Chrome browser
Step 1: Download the wallet from chrome: https://metamask.io/, click Download Now
Step 2: Select "Install MetaMask for Chrome". You'll be redirected to the Chrome web store shortly.
Step 3: Select Get Chrome Extension ⇒ Add to chrome ⇒ Add extension ⇒ Done. After adding, you will see the icon of Metamask on the browser like this.
Step 4: Click on the Metamask icon as above. Then click Get Started, then click Create a wallet.
Step 5: Enter Import wallet if you already have a wallet and remember "Private Key", if not, click Create a Wallet to create a new one.
Step 6: Carefully read the terms and select I Agree. Then, for the wallet, create a password and confirm it twice. Remember to check the box that says "I have read and agree to the Terms of Use."
Step 7: Next, you must save 12 recovery phrases, including the special 12-character seed phrases, to ensure your account's security. This is very important. You can write it on a paper.
Step 8: MetaMask will ask you to confirm those 12 phrases once more time; select the correct order of the words and click "Confirm" to complete the wallet creation process.
To play Thetan Arena, you must first understand that it runs on the Binance Smart Chain, which means you must first add Binance Smart Chain to your wallet in order to connect to the game.
Add Binance Smart Chain network as follows:
Go to Settings to add nodes of Binance Smart Chain first.
Add the following information to your Wallet so that it can connect to the Binance Smart Chain network:
Network Name (Tên mạng): Smart Chain
New RPC URL (URL RPC mới): https://bsc-dataseed.binance.org/
ChainID: 56
Symbol: BNB
Block Explorer URL: https://bscscan.com
=> Now you have a Metamask wallet, which you can use to connect to Thetan Arena.
Download Thetan Arena on laptop
Once you have your Metamask wallet, you can download the game.
Go to Thetan Arena website: https://thetanarena.com/#home
Choose download PC
Go to ThetanArenaSetup.exe folder to install the game
After you've finished installing the game, go to this interface and select Register.
You must enter your email address in order for Game Thetan Arena to send you a code that will allow you to log in.
Thetan Arena gives you 3 Heroes to begin playing the game after you create an account.
So now you have a Thetan Arena account.
How to link your Game Thetan Arena account to MetaMask wallet
When playing games on blockchain, this is a crucial point. You must know how to link your Thetan Arena account to your Metamask wallet. Here's the instruction:
Step 1: Go to https://marketplace.thetanarena.com/connect and log in to the marketplace on the right corner.
Step 2: Select Connect Wallet
Step 3: Connect your Metamask wallet
Step 4: Connect to the game account you just created above
Step 5: Enter the email address of Thetan Arena game account to complete
Step 6: After entering the code, the last step is confirmation
And that's it!
Summary
The steps to create a Thetan Arena game account and connect the Metamask wallet to provide players with the most up-to-date game experience on the blockchain platform are stated above.
Setting up an account and connecting to the blockchain can be difficult for traditional players. I hope you found this article useful.
Coin68 conducted all of the research for this article, and it does not constitute investment advice. Coin68 is not liable for any direct or indirect possible risks from the information contained in this article. Good luck!
You can find more useful GameFi documents here.
About Ancient8
Ancient8 is building a DAO that develops the infrastructure layer for GameFi, with focuses on the community and software. As Vietnam's largest blockchain gaming guild, Ancient8 enables everyone to build the Metaverse through scholarship, blockchain education, institutional-grade research, community, and blockchain software products. Ancient8's vision is to democratize social and financial access in the Metaverse, and is on a mission to reach, educate, and empower the next 100 million Metaverse citizens through the blockchain.
Ancient8 is backed by leading investors including Dragonfly, Pantera, Hashed, Mechanism, Coinbase, Alameda, Jump, Animoca, among others.
---
Join us in our journey to build the Metaverse!
Twitter | Discord | Website | Blog | Facebook | Telegram | YouTube