Ancient8 partners with Shrapnel, one of the first customizable AAA FPS blockchain games
Ancient8 is thrilled to announce our latest partnership with Shrapnel, one of the first moddable AAA FPS blockchain games in the space.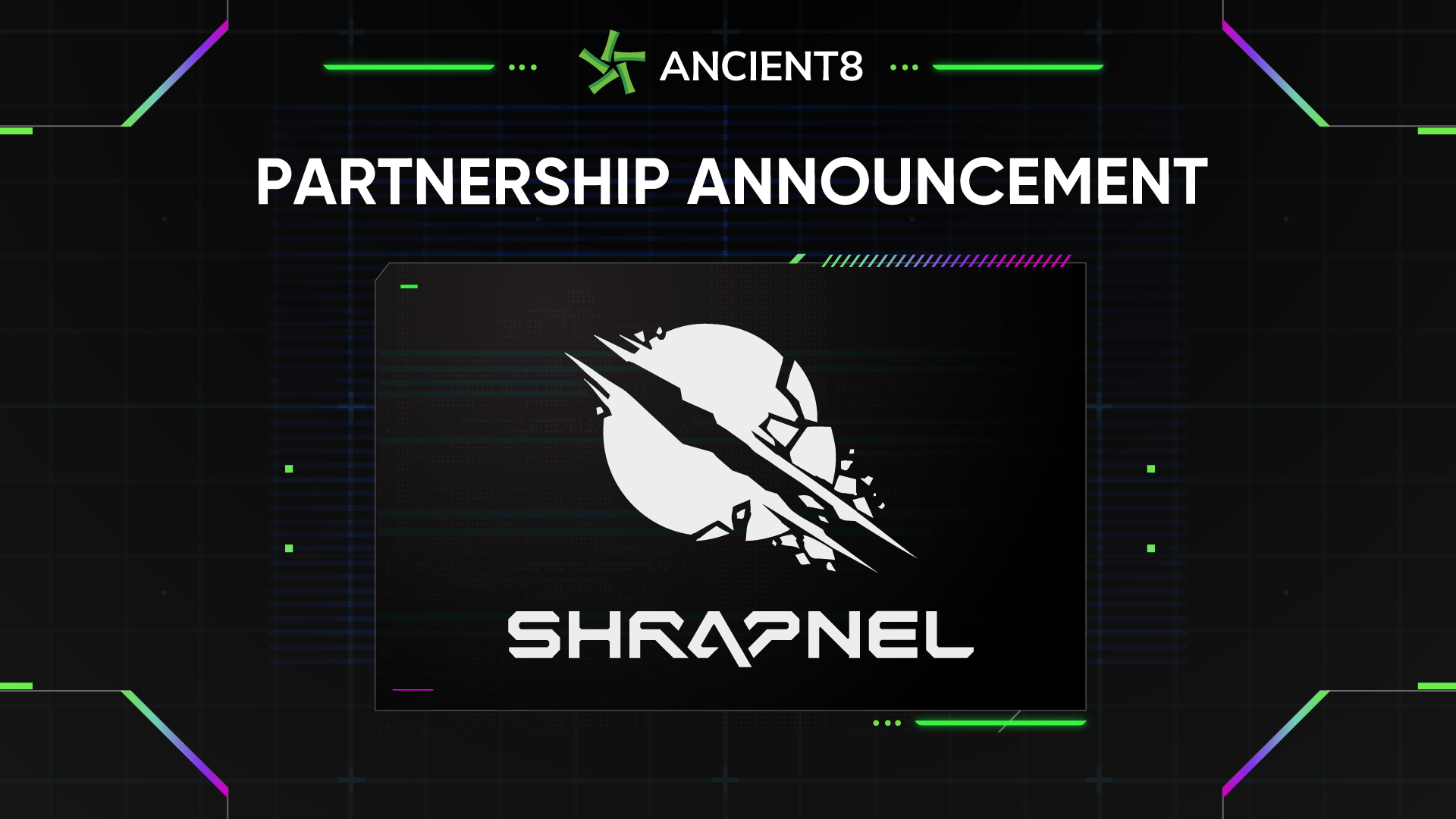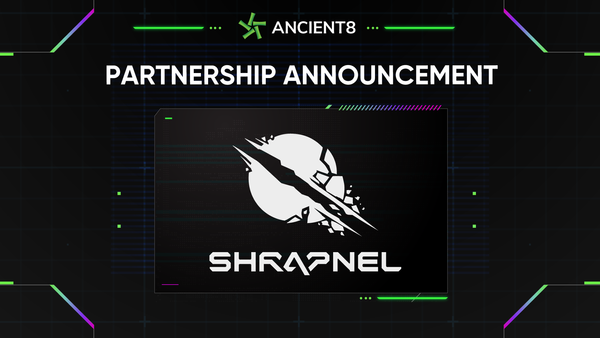 Ancient8 is thrilled to announce our latest partnership with Shrapnel, one of the first moddable AAA FPS blockchain games in the space.
Through this partnership, Ancient8 will accompany Shrapnel on their vision to become the top-tier FPS game that drives Web3 Gaming towards mass adoption through play-to-own and create-to-own designs.
Introduction to Shrapnel
Shrapnel is an extraction-based FPS that lets players hunt and fight for exclusive drops in The Sacrifice Zone - inspired by Escape from Tarkov and the "Dark Zone" mode from The Division. The game trailer and previews have been getting raves, and the team has BAFTA and Emmy awards under its belt!
Not only can players use on-chain guns and gear to customize their play experience, but vanity items and cosmetics can be created, minted, and used in-game using Shrapnel's UGC tools. In this way, Shrapnel offers a diverse range of experiences targeting various player types: players, creators, and curators.
Shrapnel will be deployed on a custom-built Avalanche subnet which offers zero latency, EVM compatibility, and in-game assets trading. All contributing to the premium gaming experience being built in Unreal Engine 5.
Neon (The studio behind Shrapnel) has raised in excess of $17.5M from prominent leaders in gaming and blockchain including Griffin Gaming Partners, Polychain Capital, Dragonfly Capital, Sfermion, Mechanism Capital, Merit Circle, Spartan, and more. They have also partnered up with Razer.
Shrapnel has a BAFTA and Emmy award-winning team of gaming veterans who formerly contributed to the success of top-tier franchises including HALO, Call of Duty, Star Wars, Hawken, Skylanders, etc.
Shrapnel's CEO is Mark Long, former head of Xcloud at Microsoft and game publishing at HBO.
Ali "Myth" Kabbani, one of the most popular streamers, serves as an advisor. Myth has leveraged his success as a Fortnite pro, boasting over 21 million followers across social platforms.
About Shrapnel
SHRAPNEL is the world's first AAA first-person shooter game, where skill-based competition, creative modding tools, and true digital ownership are all powered by blockchain technology. Developed by an award-winning team with pedigree from Xbox, HBO, EA and more, the SHRAPNEL team is comprised of industry experts from AAA games and blockchain projects.
As the first competitive multiplayer FPS that allows players to create, own, and trade their Player-Created Content, SHRAPNEL has the potential to be the industry-defining FPS franchise for the next generation of gamers.
About Ancient8
Ancient8 is a Web3 gaming infrastructure protocol. Ancient8 builds Web3 Gaming Loyalty Platform Space3, Dojo Launchpad, research content platform, and Vietnam's largest guild to help Metaverse projects onboard millions of users to Web3. We've developed products to help 100+ web3 games and 200K+ users better navigate Web3.
Ancient8 has raised $10M in total financing from leading investors including Pantera, Dragonfly, Hashed, Makers Fund, C² Ventures, Mechanism, Coinbase, IOSG, Animoca, among others.
Join us in our journey to build the Metaverse!
Twitter | Discord | Website | Research Portal | Blog | Facebook | Telegram | YouTube