Ancient8 Partners with Meson to Provide Gamers with Instant Cross-chain Solutions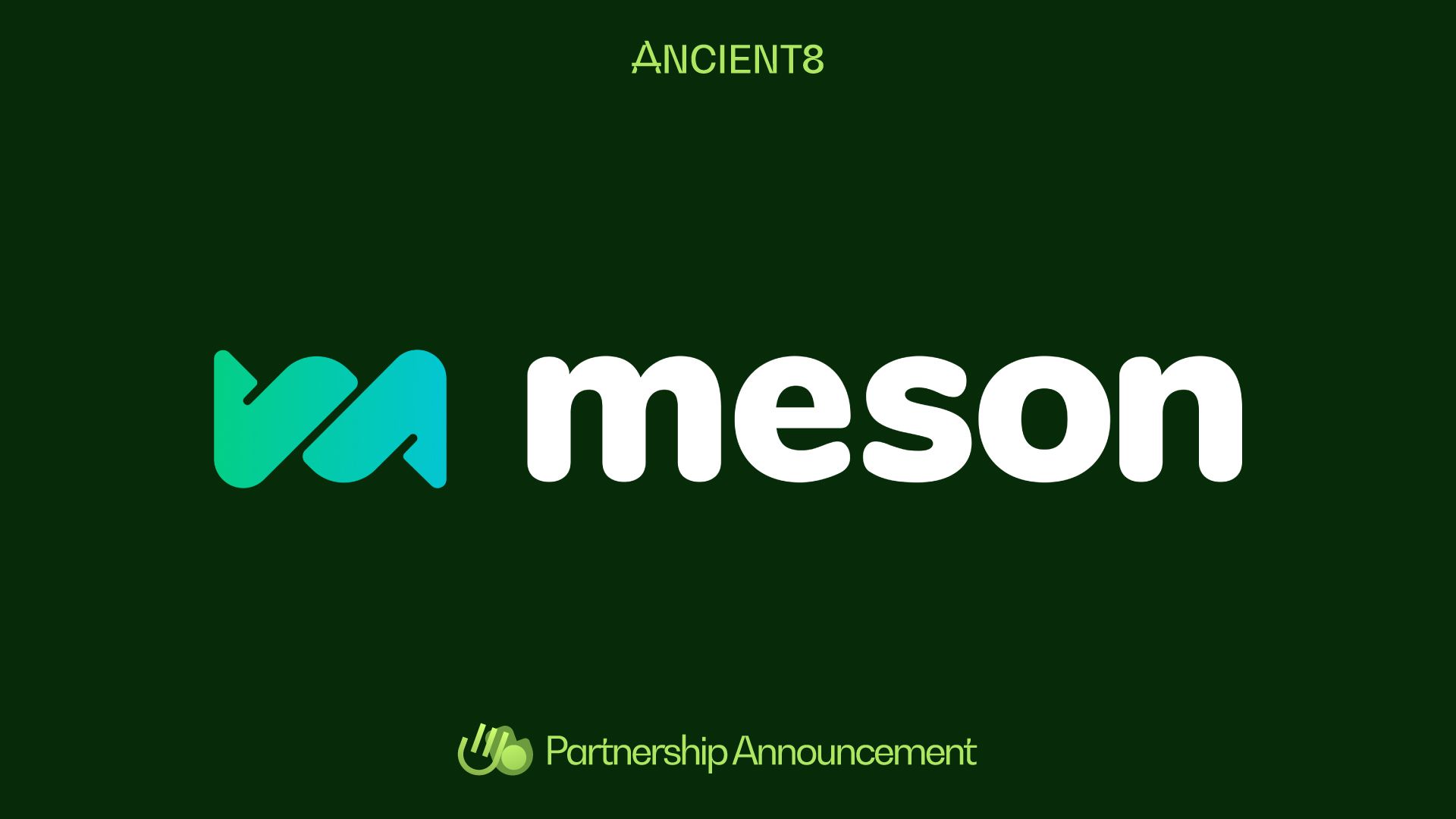 We are excited to introduce the strategic partnership with Meson. This collaboration aims to provide a comprehensive cross-chain solution for gamers & game developers on the Ancient8 Chain. With the integration on Ancient8 Testnet and soon Ancient8 Mainnet, Meson gives users the convenience of transferring ETH/USDC/USDT seamlessly from other blockchains and Layer 2s to the Ancient8 platform. The Meson integration will result in an unparalleled in-game payment experience, elevating the gaming experience for all Ancient8 gamers, starting with Ancient8 Testnet.
Ancient8 x Meson
The partnership between Ancient8 and Meson will bring several benefits to users. First, gamers on the Ancient8 Chain can smoothly swap ETH/USDC/USDT from over 30+ Layer 1s and Layer 2s directly to the Ancient8 Chain. Additionally, Meson integration also offers gamers versatile payment options, including traditional fiat via credit cards or stablecoins from any blockchain.

With Meson's powerful SDK and API suite, games on Ancient8 are enabled with fiat/cross-chain crypto payment capability, providing the best user experience for gamers. Powered by Meson protocol, all funds will be deposited directly into the game smart contract in desired tokens within 2 minutes.

Together, Ancient8 and Meson will work closely to enrich the Ancient8 ecosystem and attract more game developers to join & expand use cases on the Ancient8 Chain. Stay tuned for more exciting updates from this collaboration!
About Meson
Meson is a leading universal cross chain bridging protocol that provides a seamless cross-chain experience for stablecoins like USDC, USDT, BUSD and ETH across more than 30 high-performance public chains and layer-2 solutions.
- Offers point-to-point cross-chain swaps between any pair of Stablecoins (USDC,USDT, and BUSD) on any supported blockchains (EVM & non-EVM)
- Fast confirmation times (<2mins), no slippage, and close-to-zero costs
- Cross chain transfer SDK/API with fiat/crypto payment solution
Meson.to is Meson's unified cross-chain SDK. It can be integrated into Web3 dApps, allowing users to complete cross-chain transactions without leaving the project page. Web3 projects that integrate the Meson.to SDK eliminate the need for users to switch interfaces for cross-chain assets, saving them from the hassle of deploying and orchestrating multi-chain deployment.

Website | Twitter | Discord | Telegram | Medium | Docs
About Ancient8
Ancient8 is a gaming-focused community-driven Ethereum Layer 2 built to onboard the next 100M Web3 citizens. Ancient8 utilizes OP Stack Layer 2 technology to offer blockchain games the best features of Ethereum, at a significantly reduced cost & no code-change needed. Backed by the Ancient8 Collective, games and protocols contributing to the growth of the Ancient8 Chain are eligible for both Ecosystem and Financial support.
Ancient8 has raised $10M in total financing from leading investors including Animoca, Pantera, Dragonfly, Hashed, Makers Fund, C² Ventures, Mechanism, Coinbase, IOSG, among others.
Join us in shaping the future of decentralized applications with Ancient8 Chain.
Twitter | Discord | Website | Research Portal | Blog | Facebook | Telegram | YouTube | Ancient8 Dojo