Ancient8 partners with BreederDAO, a Game Asset Production Factory.
We're pleased to announce our latest partnership with BreederDAO.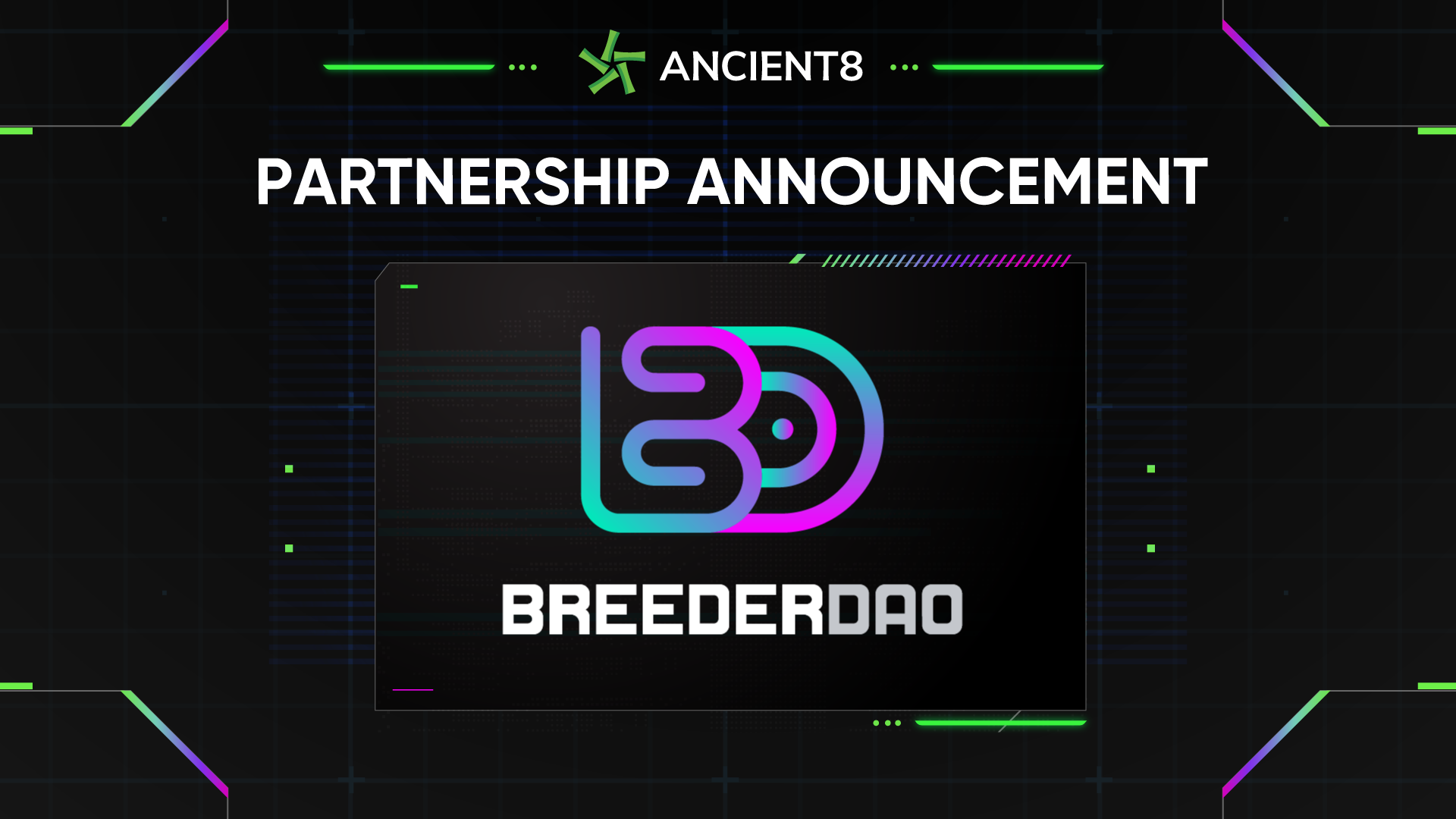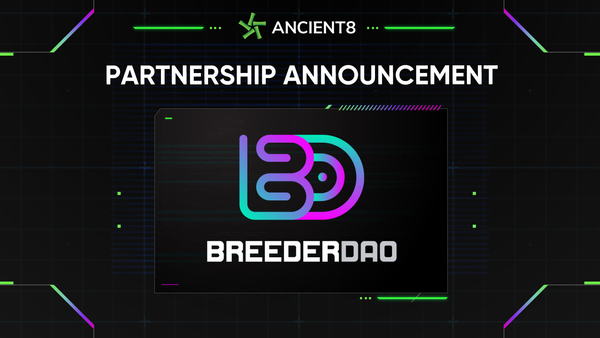 With this partnership, we'll be able to help more gamers get involved with web3 games as we will feature our Research Articles on PlayCore - a robust, user-oriented analytics platform developed by BreederDAO. This is a big win for  both of us as it ensures our guild's continued scalability by allowing guilds to keep gaming assets in the hands of scholars and to concentrate time and efforts into maximizing the yield of these assets.
Introduction to BreederDAO
Renz Chong, Jeth Ang, and Nico Odulio co-founded BreederDAO, a startup specializing in breeding and crafting NFT characters and game items to be used in play-to-earn games like Axie Infinity, Sipher, Cyball and Crabada, with the mission to become the primary source of quality gaming assets and the go-to asset factory in the Play-and-Earn space. The startup charges players or game guilds to create the desired traits for the playable NFT to win the game. In January, just two months after its launch, the Philippines-based startup raised $10 million in series A funding through a token sale co-led by Andreessen Horowitz's a16z and Delphi Digital.
BreederDAO forms Production Partnerships with a roster of games for whom they produce in-game assets that players and guilds can purchase. These partners are valuable clients in the BreederDAO ecosystem and leverage the platform's unique capacity to manufacture high-quality, refined in-game assets and NFTs.
With Playcore, an auxiliary of BreederDAO, anyone and everyone can access on-chain data and research from blockchain games. And the best part: all of Playcore's data is aggregated and organized behind the scenes, and is presented to users in a digestible, intuitive format.
By featuring Ancient8 Research articles on the Playcore platform, Ancient8 and BreederDAO aim at providing the next generation of Metaverse citizens fair access to valuable insights and data-driven judgment . Together, we are positioned to become the top-tier home base for institutional-grade research blended with real-time on-chain data from the blockchain gaming space.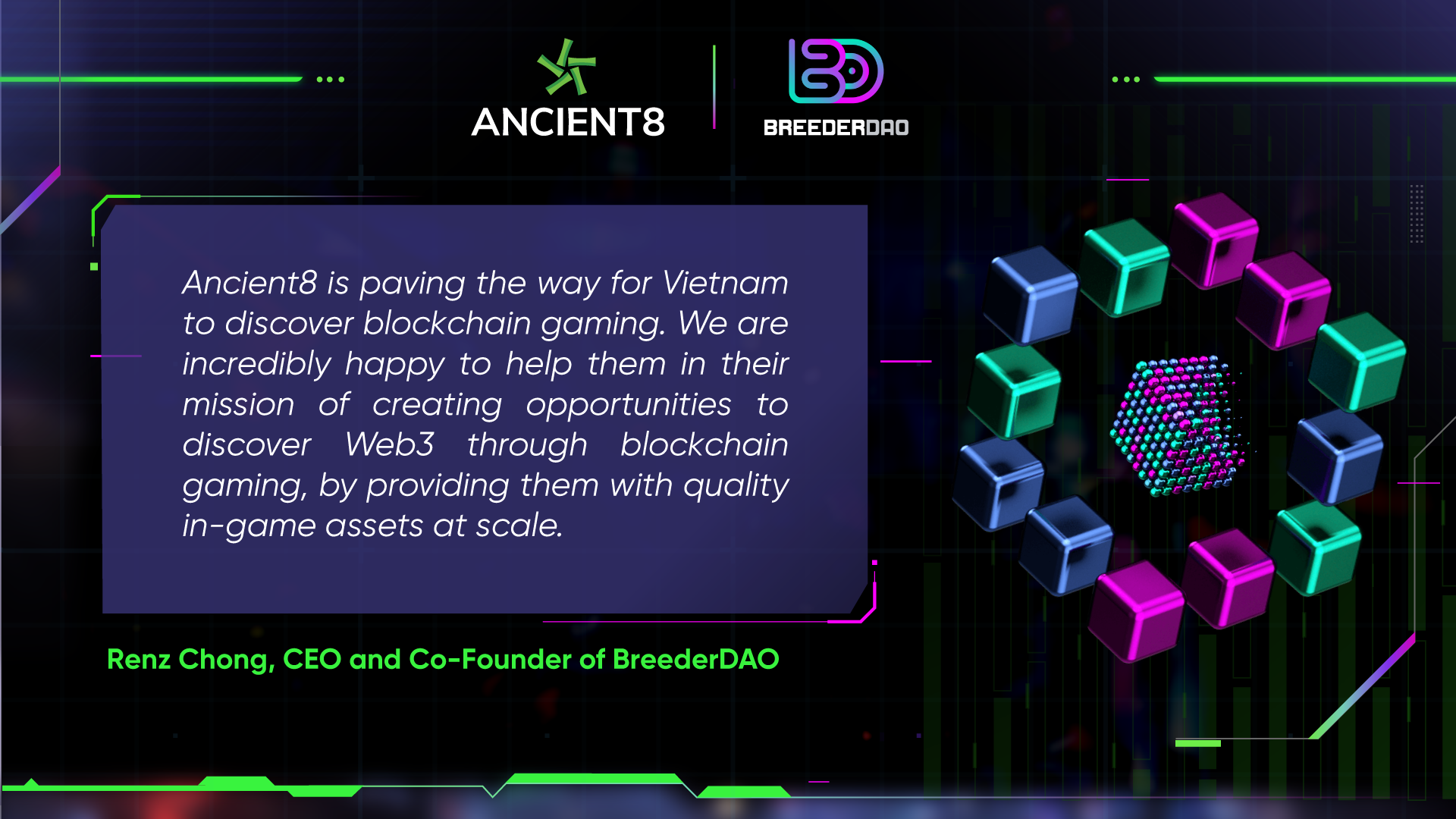 About BreederDAO
BreederDAO is the go-to asset production factory for quality gaming assets in the Metaverse. They are a specialist manufacturer of quality digital assets used in blockchain-based games and virtual worlds. Their mission is to be the primary source of quality assets and become the go-to asset factory in the Play-and-Earn ecosystem— a pillar of the Play-and-Earn economy– and equip the next billion players.
Website | Medium | Twitter | Discord | Telegram
About Ancient8
Ancient8 is developing the infrastructure for GameFi, with a focus on software and community. Ancient8 is building GameFi Identity and Launchpad products to serve as the marketing distribution channel for GameFi and Metaverse projects to onboard millions of users. Ancient8 manages Vietnam's largest blockchain gaming guild, and enables everyone to build the Metaverse through blockchain software products, guild scholarship, blockchain education, institutional-grade research, and community. Ancient8's vision is to democratize social and financial access in the Metaverse.
Join us in our journey to build the Metaverse!
Twitter | Discord | Website | Research Portal | Blog | Facebook | Telegram | YouTube | Ancient8 Dojo