Ancient8 Game Night - Flex Your Favorite Game, Reward of $100
Soldiers, are you ready for a good time?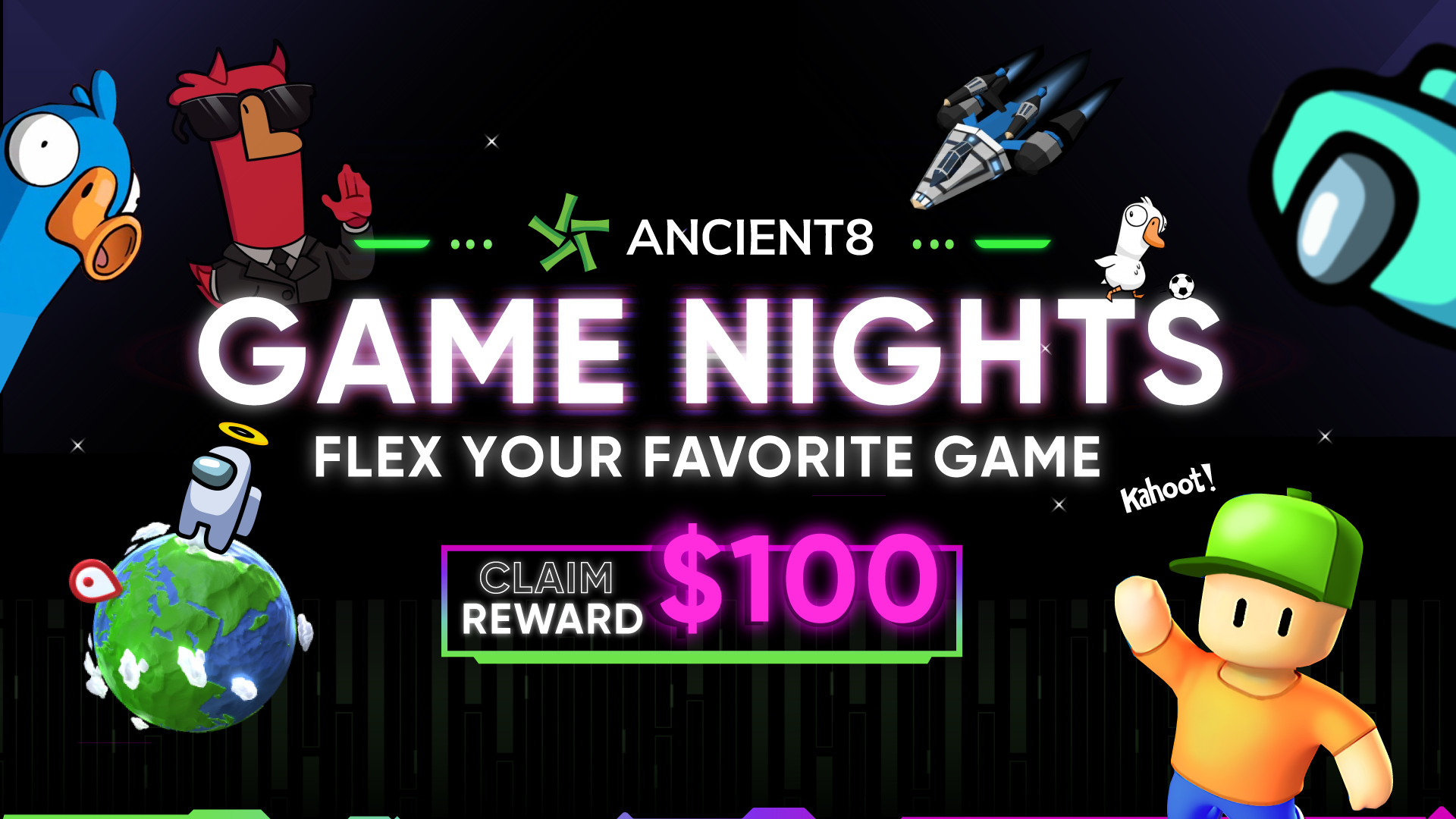 Starting this July, Ancient8 will organize a Game Night Series exclusively for the Ancient8 community.
What is Ancient8's Game Night Series?
Simply put, Ancient8 wants to create a more interesting playground for the community so that the community can connect with each other. We decided to launch a Game Night Series to accomplish this goal. This series of activities will take place every week in the evening with 4 or 5 games organized by a Host. Each game will be sponsored with a $20 reward by Ancient8.
Game Night organized by the Community
Ancient8 wants to find talented Soldiers who want to prove themselves with creativity and management. Game Nights will be led by the Host who is an important role, and will be in charge of the Soldiers. The Host will have to come up with a game concept, organize, manage and finalize the result. The games can be: Poker, Stumble Guys, Fall Guys, Kahoot, Gartic, Among us, etc.
There are 2 ways to join the Ancient8 Game Night series: join as a Game organizer or a Player. You can earn the rewards in both ways of participation, and all Game Night sessions will be clearly scheduled for community members to follow up closely, so subscribe and keep an eye on the Ancient8 notification channel!
⏰Timeline
- July 16th - July 20th: Open Google Form and review Game Night session concept
- July 21 - July 29th: Open Form for players to register and Confirm sponsorship for the 10 most impressive Game Nights (have > 20 players registered)!
- July 30st - August 16th: Game Night Series organized by the Community
- August 17th - August 19th: The best Host Voting Poll
- August 20th: Game Night Series and The best Host Voting Poll results
🎁Prize
- 20$ / Game Night, the prize for the winner will depend on the idea given by the Administrator
- The best organizer of Game Nights: $100 + 3,000 BBP
👨‍✈️👩‍✈️ Instructions to register to be a Host of Game Night Series
Step 1: Make an idea and plan for your Game Night (refer to here)
Step 2: Fill out the registration form and submit your game ideas through: https://forms.gle/J3NgA9YwxYAhKU4Y8
Step 3: Wait for the results at Discord channel
Ancient8 will open a Google Form so that community members can submit ideas for the Game Night Series, and select the 10 most interesting games from 10 different Hosts.
After that, Ancient8 will contact the potential Hosts to prepare the game and a GG Form for the community to register.
All Game Night sessions will be clearly scheduled for community members to follow. Stay tuned and don't miss any announcements from Ancient8.
Note: The Game Night session will qualify to receive a $20 sponsorship from Ancient8 only when there are more than 20 people registered to participate.
⛹️⛹️‍♀️ Instructions to register to become an Ancient8 Game Night Player
After 10 Game Night hosts have been selected, let's stay updated on Ancient8 social media and wait for the registration Form (FCFS) to join your favorite Game Night on Discord channel to register and start competing!
🏆How to get the title: The best organizer of Game Nights
At the same time, the Hosts will also compete with each other to get the title The best organizer of Game Nights to receive the prize of $100 and 3000 BBP.
The voting poll will be held on Ancient8 Discord Server where the members can vote for their favorite Host as well as any Game Night session. It will be open from August 17th to August 19th.
Are you confident enough to host your epic and favorite Game Night?! Let's register as a Game Night organizer or Player now!
About Ancient8
Ancient8 is building a DAO that develops the infrastructure layer for GameFi, with a focus on community and software. As Vietnam's largest blockchain gaming guild, Ancient8 enables everyone to build the Metaverse through scholarships, blockchain education, institutional-grade research, community, and blockchain software products. Ancient8's vision is to democratize social and financial access in the Metaverse, and is on a mission to reach, educate, and empower the next 100 million Metaverse citizens through the blockchain.
Ancient8 is backed by leading investors including Dragonfly, Pantera, Hashed, Mechanism, Coinbase, Alameda, Jump, Animoca, among others.
Join us in our journey to build the Metaverse!
Twitter | Discord | Website | Blog | Facebook | Telegram | YouTube