Ancient8 Esports team - PemPem, Player and Coach
Today, let us get acquainted with PemPem - a Vietnamese Axie Infinity player with a myriad of achievements within the global community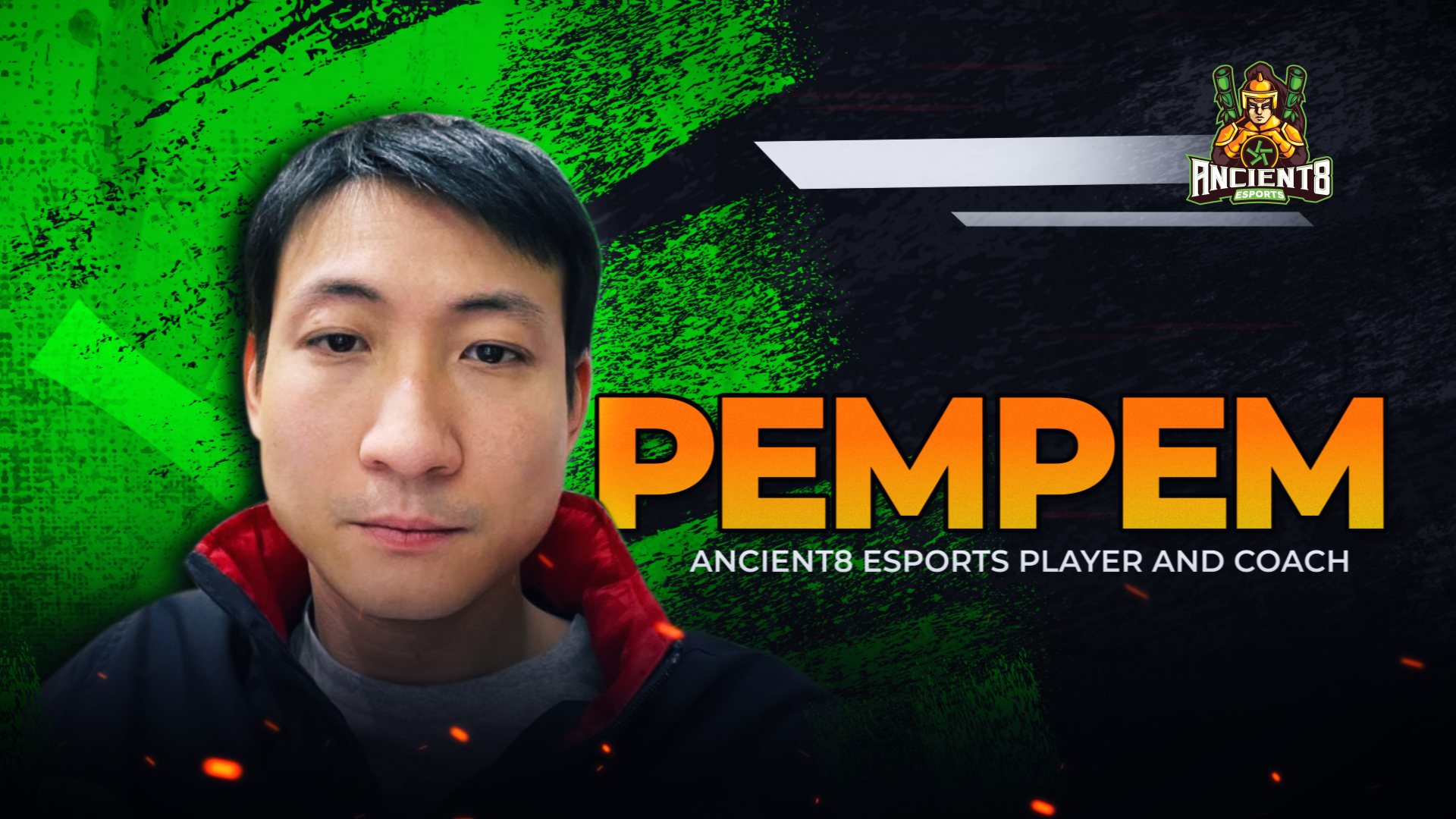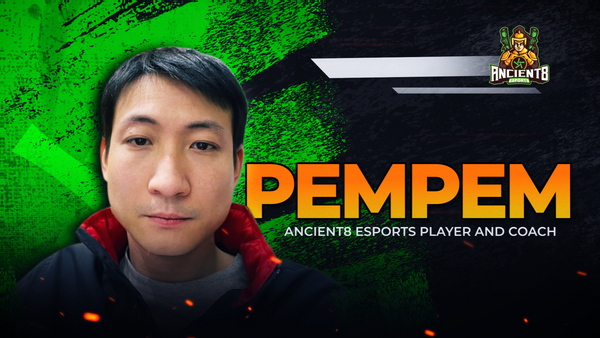 One of Ancient8's primary goals is for the development and elevation of GameFi to Esports status. With this in mind and as a pioneering blockchain gaming guild, Ancient8 has decided to form an Esports team for Axie Infinity, the most successful blockchain game at the moment.
Today, let us get acquainted with PemPem - a Vietnamese Axie Infinity player with a myriad of achievements within the global community - and find out what motivates the 34-years-old coach of the Ancient8 Esports team to devote himself to building a strong GameFi community?
From phone store owner to Axie Infinity master
PemPem's real name is An, the owner of a famous phone store in Hai Ba Trung District, Hanoi, Vietnam. Although he possesses a strong technical background, having been in his field for over 13 years, he does not have too much experience in the field of Esports, or even GameFi, prior to 2021. When the COVID-19 pandemic devastated Vietnam and pushed businesses into a state where they had to find another way to make ends meet, Mr. An found a Play-to-earn blockchain game called Axie Infinity.
PemPem admitted that Axie Infinity was the first game to have opened up a new network of opportunities, community, and insight. As a businessman, PemPem always tries to make the most out of his time. With Axie, he can play whenever he has free time. What is most attractive about the Play-to-Earn mechanism is that it can revolutionize and change how the traditional gaming industry and can create surplus value for players.
PemPem has learned about the cryptocurrency market in 2017 and at that time ventured in by owning a Bitcoin mining rig. Since July 2021, Mr. An has owned a small "Axie ranch" with more than 180 Axies and has created opportunities to earn income for more than 60 scholars during the pandemic.
The path to professionalism and the desire to build a Vietnam GameFi community
To further improve his family income, Mr. An spent a lot of time and effort to excel in Axie Infinity's global Top Leaderboard. PemPem surpassed all other heavyweights around the world to reach high rankings for 2 consecutive seasons. More specifically, he reached Top 6 in Season 18 and Top 21 in Season 19, receiving a total reward of 91 AXS. However, this is not enough for PemPem. His aim now is for the Number 1 position on Axie's Top Leaderboard. With the professional investment and resources from Ancient8, we hope to assist PemPem in realizing his dream in Season 20.
In November 2021, Ancient8 Gaming Guild held the first Axie Infinity Tournament in Vietnam, with PemPem among the candidates for the championship. After overcoming 30 opponents from 4 groups in BO3 battles, PemPem was crowned Champion with a prize of 100 AXS. This amounted to approximately 600 million VND, a worthy sum for the time and efforts he had put out, especially during the difficult pandemic months, which had placed a lot of economic and mental pressure on him.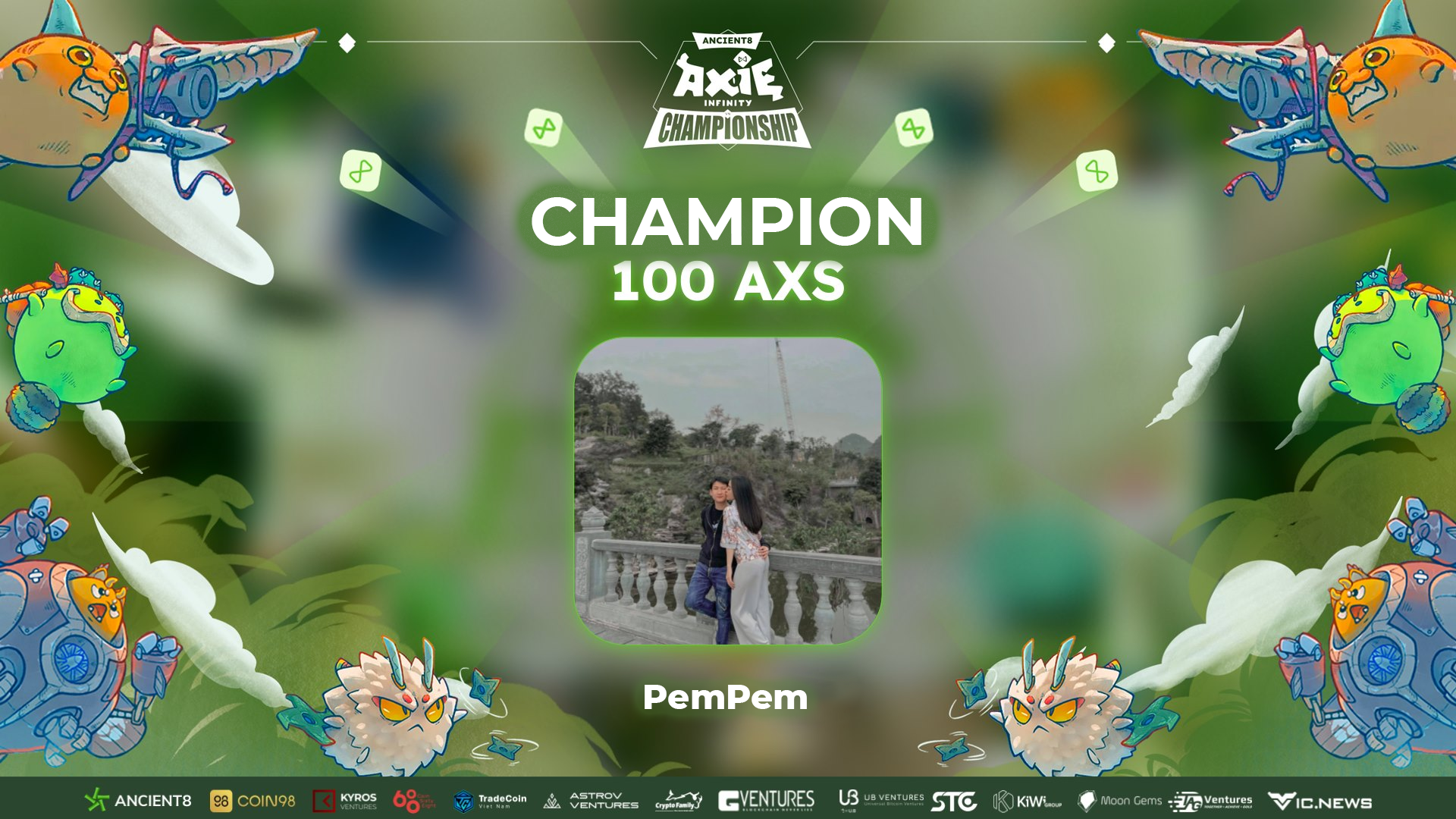 But perhaps what head higher expectations, not in terms of material gains, but a strong desire to build a strong GameFi community for Vietnam. He shared: "Ever since knowing about Axie and Play-to-Earn, I look forward to helping more people get access to this opportunity. This is something I have never been able to do before because I come from the traditional business sector, but here, I have been exposed to a lot of young people, some of whom come from many countries besides Vietnam such as the Philippines, Indonesia, Thailand, Singapore,... who are extremely active and supportive communities. This is very precious and I want to spread this spirit to more people around me."
When asked about the in-game economy of Axie in its current state and to comment on other NFT games or traditional games, PemPem frankly shared his personal views as follows: "I think in the near future there will be a shift from traditional games to NFT games. This does not mean that traditional games will die, but that games that are familiar to us on computers or phones will integrate or upgrade more features related to Blockchain, in-game tokens or Play-to-Earn elements."
Mr. An also advises GameFi newcomers to maintain their main job, the principal source of income. Play-to-Earn and NFT games should only be considered as a part-time job or play for fun, an extra source of income.
Joining Ancient8 Esports
PemPem shares what he likes the most about Ancient8 is the community. "You guys in the community are much younger than me, but it is a very good thing that you guys always help and support each other regardless of age, country, level of education. … I also learn a lot from you guys," he shared.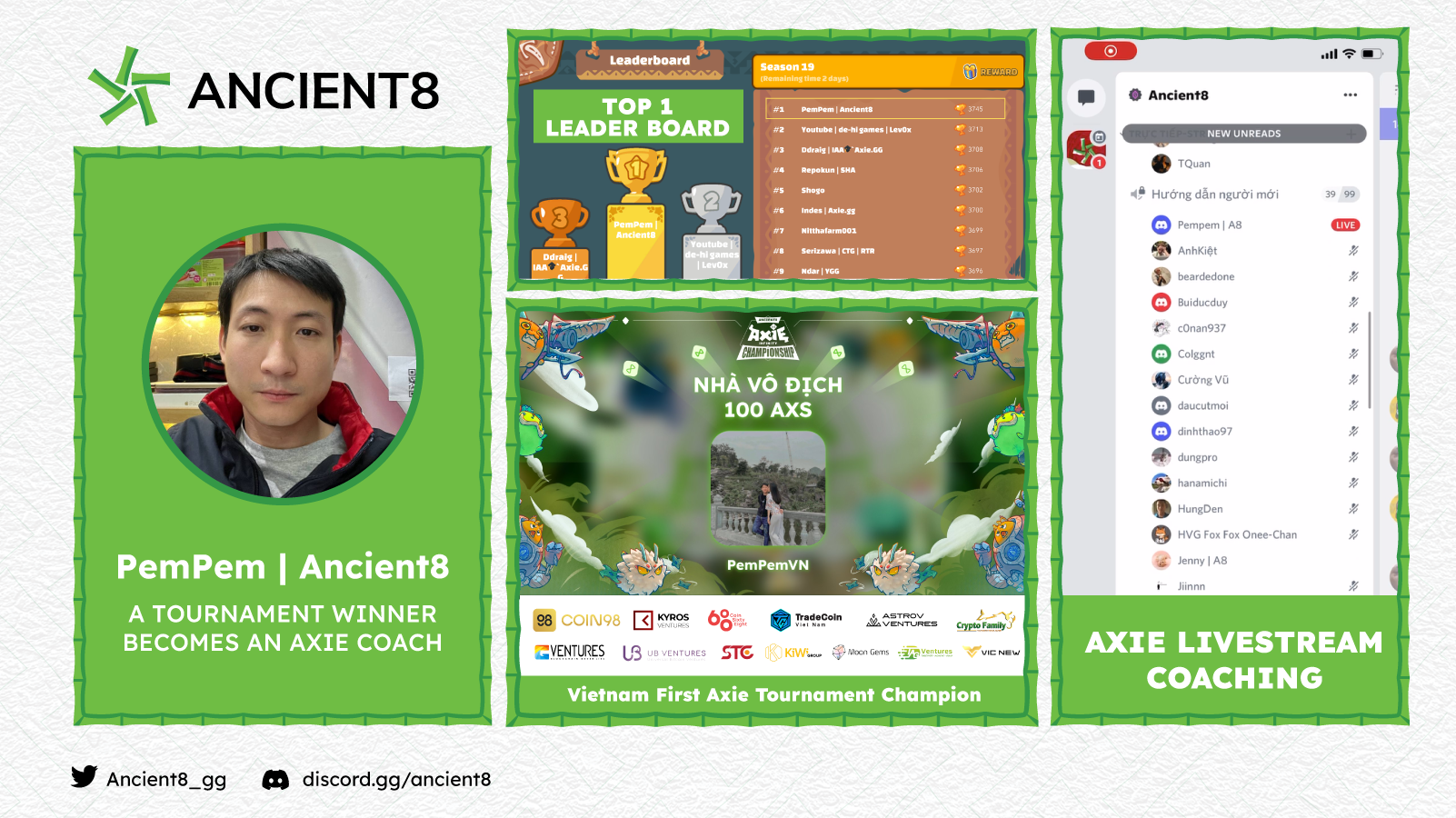 PemPem was one of the first members to join the coaching staff for Ancient8. With his enthusiasm and the fighting experience through many meta, PemPem is truly a veteran in the Vietnamese Axie landscape. From the lessons on gameplay tactics to psychological training, he is a shining beacon to guide the next generation of Vietnam's Axie pro players, inspiring as a role model for the members in and outside of the guild.
With new personnel from the professional Esports world, we can build a complete and healthy growing GameFi Esports community in Vietnam. This starts with you, who will continue to ignite the fire of enthusiasm passed on by the previous generations.
About Ancient8
Ancient8 is building a DAO that develops the infrastructure layer for GameFi, with focuses on the community and software. As Vietnam's largest blockchain gaming guild, Ancient8 enables everyone to build the Metaverse through scholarship, blockchain education, institutional-grade research, community, and blockchain software products. Ancient8's vision is to democratize social and financial access in the Metaverse, and is on a mission to reach, educate, and empower the next 100 million Metaverse citizens through the blockchain.
Ancient8 is backed by leading investors including Dragonfly, Pantera, Hashed, Mechanism, Coinbase, Alameda, Jump, Animoca, among others.
---
Join us in our journey to build the Metaverse!
Twitter | Discord | Website | Blog | Facebook | Telegram | YouTube