Welcome to Ancient8 Dojo: The first Solana-focused GameFi Launchpad
Ancient8 is excited to announce the launch of our first application in the Ancient8 ecosystem of web3 gaming infrastructure products: Ancient8 Dojo.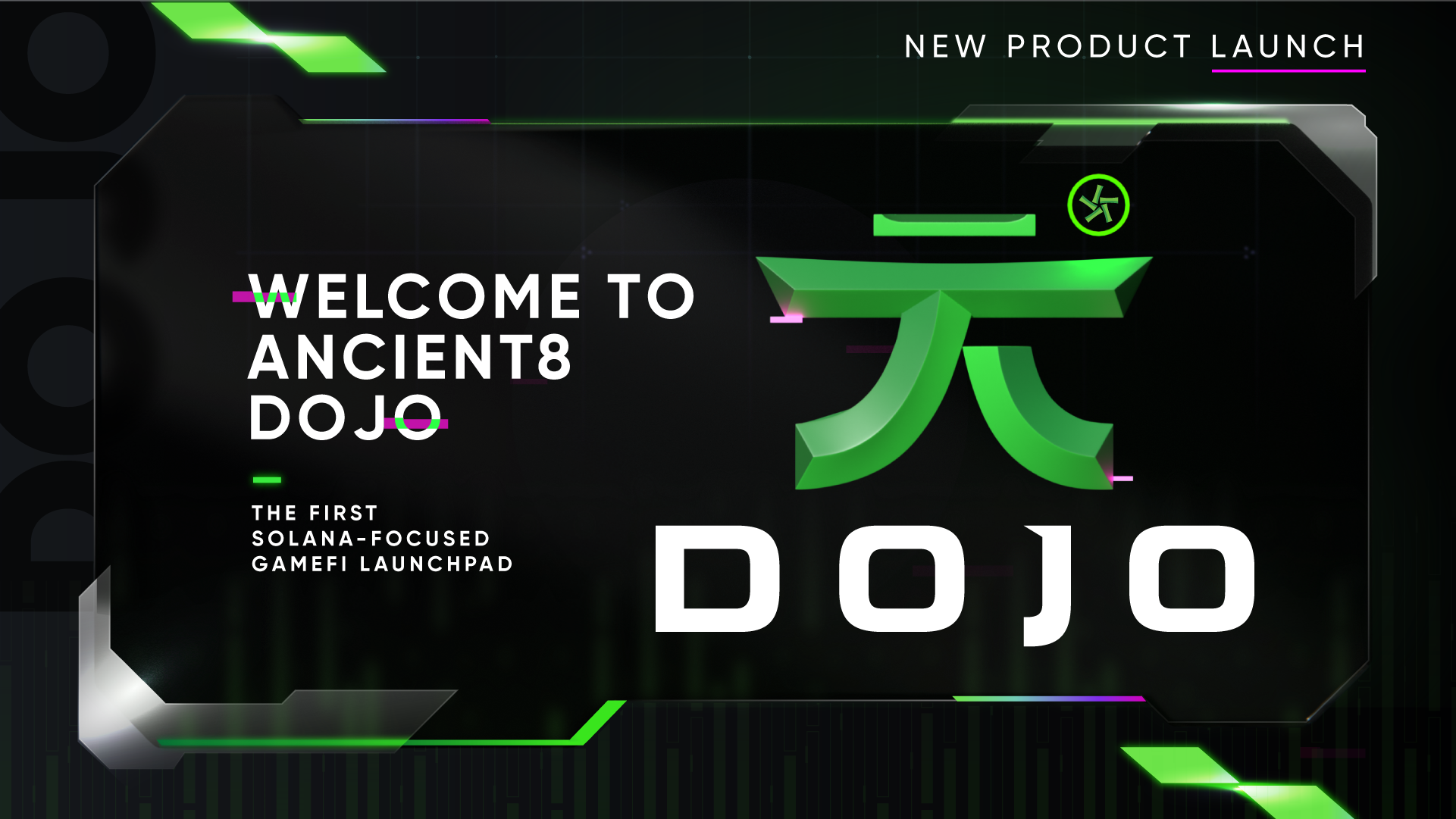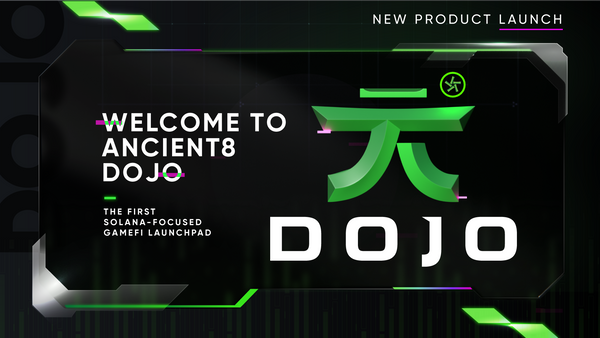 Welcome to Ancient8 Dojo
Ancient8 is excited to announce the launch of our first application in the Ancient8 ecosystem of web3 gaming infrastructure products: Ancient8 Dojo.
Dojo is a launchpad platform for hosting NFT sales (IGOs) for the best web3 game projects with a focus on the Solana ecosystem. It will provide exclusive opportunities for players to support the development of new web3 games and offer early access to game communities and future rewards.
The sales hosted on Dojo will provide immense benefits to our community. For the first time, players can actually invest in the creation of new games they want to play and directly share in their success.
There are other launchpads out there, but Dojo stands out from the crowd for a few key reasons:
Top-tier Game Partnerships
As GameFi experts early to the space, Ancient8 is proud to be partnered with some of the top web3 game projects across multiple chains, with a focus on Solana. With such a strong and carefully-selected roster of partners including Magic Eden, Tatsumeeko, Chillchat, Blast Royale, CyBall, Sipher, etc., we are able to guarantee a higher and more consistent level of quality in terms of the games themselves, their communities our users get to join, and, not to mention, the value of the NFTs minted in every sale.
Integrity and Reputation
Ancient8 oversees the largest blockchain gaming community in Vietnam and we have built our reputation as trustworthy builders, educators, and thought leaders in Web3 gaming based on the content we produce. Our GameFi Research is some of the best in the world and is closely followed by industry leaders. We do not take this responsibility lightly. To help ensure the security of our community's funds, we perform comprehensive due diligence on every project we partner with to make sure our principles and goals are aligned. We will always put quality over quantity when it comes to the games we host on Dojo.
In ancient times, Dojos were sacred spaces connected to Buddhist temples; so shall Ancient8 Dojo be a safe and enriching place for our community.
Intuitive UI
Participating in IGOs on Dojo will be a safe, smooth, and seamless process. Streamlined by our whitelist system and Ancient8 UID product, users will appreciate the efficient design and easy-to-use interface. Info and research on each project will be easily accessible from Dojo to help users evaluate each project.
There are three types of NFT sale mechanism: the FCFS Whitelist Sale, the FCFS Public Sale and the Guaranteed Whitelist Sale. A limited number of NFTs are reserved for each round, so those who make it into the FCFS Whitelist will have a better chance of buying an NFT than the Open Sale, and everyone on the Guaranteed Whitelist is guaranteed the ability to buy. To access the Whitelist sales, users must complete social engagement tasks leading up to the event date. For FCFS Public Sales, anyone who has registered their Ancient8 UID will be eligible to participate on a first come, first serve basis.
Dojo Origin Story
Today, dojos are commonly known around the world as training centers for martial arts, but they have existed in Asia for over 1,000 years. Ancient8 takes inspiration from the solidarity of Vietnamese people who defended their homeland against invaders over many centuries. Due to these countless trials, the strength and discipline of martial arts has been deeply woven into the culture and history of Vietnam. We decided to honor this influence and heritage by naming our first major product Dojo.
Symbolically, it's easy to draw parallels between real-life Dojos and the benefits our launchpad platform brings to games and players alike. Launchpads exist to support a project's development. Hosting a sale on Ancient8 Dojo introduces and connects the game directly with our global network of passionate gamers who can become early members of the game's fanbase or DAO and gain a vested interest in the game.
These opportunities benefit everyone involved and could be compared to those that students of martial arts receive from joining a Dojo in real life. They can build friendships through training, and also join the global martial artists community; in any city, in any country, they can find kindred spirits and feel welcome at the local dojo. Gamers also share a strong sense of community, passion, and competitive spirit. The most competitive players put thousands of hours into their favorite games, just as fighters do at the gym. And blockchain gaming communities are especially tight-knit because it's still so early in the space. Not to mention, players are naturally more excited about projects in which they're financially invested–  especially when they get to provide creative input into the game's development via DAO proposals.
On a broader level, we believe the name Dojo reflects the increasingly multicultural and international nature of Ancient8's growing community while staying true to our brand identity. Whether you call them dojos, training gyms, or martial arts schools– it doesn't really matter. They have all risen from the same foundations to make martial arts a global phenomenon, and it is to that foundation and unstoppable trajectory that we at Ancient8 aspire to replicate.
Special Event: Dojo NFT Badge Drop!
To celebrate the launch, Ancient8 is dropping a collection of 1000 "early-bird" Dojo NFT badges that will be almost free to mint. Badge holders who also complete social tasks in our promotional campaign will have a chance to win one of 300 whitelist spots to join in the first IGO NFT sale on Ancient8 Dojo along with a share of a $7,000 (USDC) prize pool!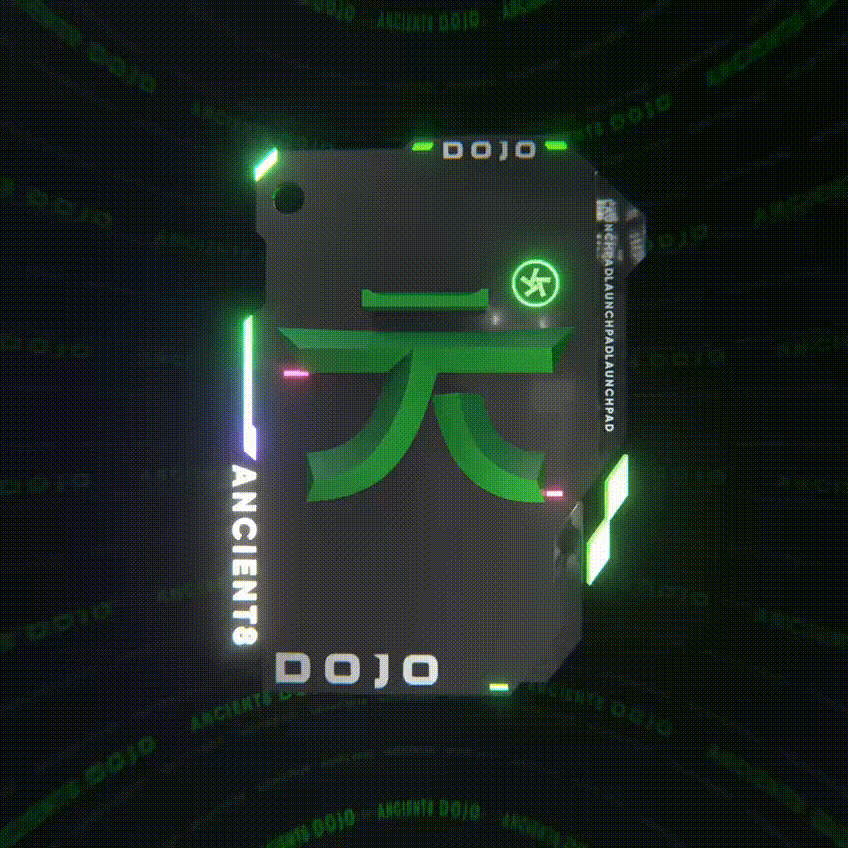 Those who wish to mint an early bird Dojo NFT badge and participate in the contest must first register their A8 UID on https://ancient8.gg. Check out this video tutorial for instructions on how to register.
Additional details will be shared soon, so stay tuned! And be sure to follow us on twitter for updates @ancient8_gg.
About Ancient8
Ancient8 is developing the infrastructure for GameFi, with a focus on software and community. Ancient8 is building GameFi Identity and Launchpad products to serve as the marketing distribution channel for GameFi and Metaverse projects to onboard millions of users. Ancient8 manages Vietnam's largest blockchain gaming guild, and enables everyone to build the Metaverse through blockchain software products, guild scholarship, blockchain education, institutional-grade research, and community. Ancient8's vision is to democratize social and financial access in the Metaverse.
Join us in our journey to build the Metaverse!
Twitter | Discord | Website | Research Portal | Blog | Facebook | Telegram | YouTube | Ancient8 Dojo