Ancient8 Creative Contest - Show us your story!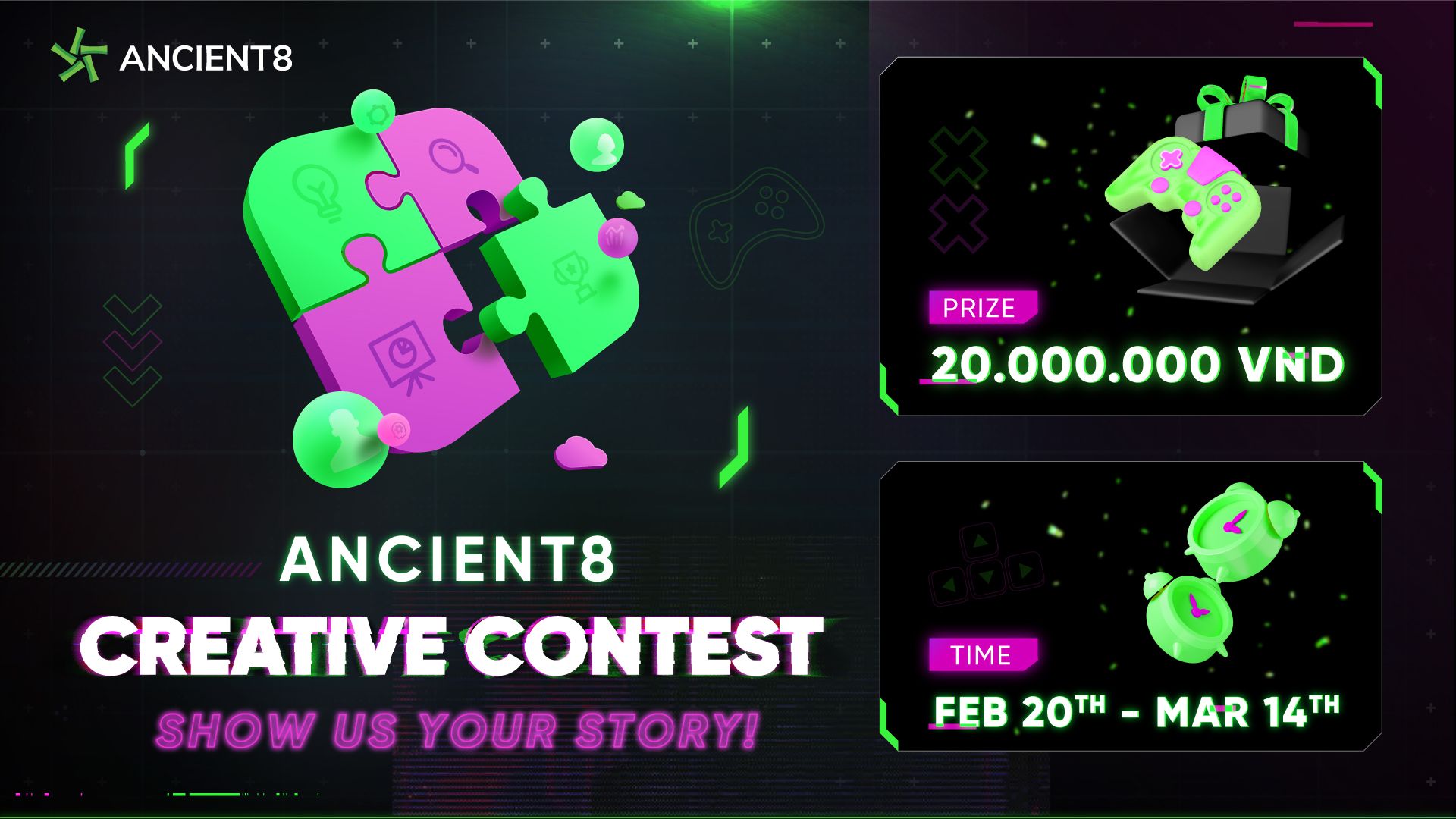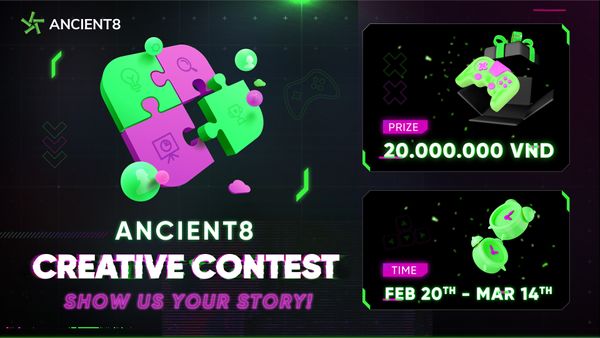 Listen up, gaming community!

Are you ready to take your gaming passion to the next level? Ancient8 is searching for the most creative and enthusiastic gamers to join our new in-house Production Team and Talent Agency. If you have a love for gaming and a talent for creating captivating content, then the Ancient8 Creative Contest is your chance to shine!

Timeline: February 20, 2023 - March 14, 2023


Join the Ancient8 Gaming Revolution: Who Can Participate in the Ancient8 Creative Contest

Ancient8 is focused on gaming and entertainment, and we are searching for individuals who share their vision and are ready to help build our brand. Whether you're a video editor, a creative gaming producer, a Key Opinion Leader (KOL), content creator, or streamer, Ancient8 wants to hear from you!

Production House:
Video editors
Creative gaming producers
Talent Agency:
KOLs
Content creators
Streamers

No matter the size of your audience, Ancient8 is looking for passionate gamers who are knowledgeable and skilled in the games they play, and have the ability to produce creative content that represents Ancient8's gaming brand.

If you're excited to join a team that's dedicated to producing in-house content that showcases Ancient8's vision and values, then the Ancient8 Creative Contest is the opportunity you've been waiting for.

The Road to Victory: Understanding the Rules of the Ancient8 Creative Contest

The Ancient8 Creative Contest will consist of two rounds: the Online Qualifying Round and the Final Round. There will be three categories in which participants can showcase their creativity and gaming skills: Video Editor, Creative Writer, and Content Creator.

Online Qualifying Round

During the Online Qualifying Round, participants will select one or more categories and submit their most impressive work.
Video Editor: Send us your best gaming videos that you edited yourself (you can submit more than one), along with eye-catching thumbnails for bonus points.
Creative Writer: Send us your best gaming-related scripts that showcase their research skills and knowledge of current trends in the industry (submit more than one presented in Docs or PowerPoint, either as short or long form content).
Content Creator: Submit your most creative videos (at least 30 seconds and up to 5 minutes) that highlight the passion and knowledge of your favorite games.

Your submissions should align with these topics, vibes, and genres:
Topics: Offline games, MOBA games, PC games, Web2 or Web3 games, etc.
Vibes: funny, trending, and entertaining
Genres: highlight moments, funny moments, review games, analyze strategy, commentary, storytelling, etc.

The submission window will be open from Feb 20 till Mar 02. Our expert team at Ancient8 will then meticulously assess the submissions to identify the most creative and skilled candidates. These top participants will advance to the final round, where they will have the opportunity to win exciting prizes and potentially join our esteemed team.

Final Round

In the Final Round, the organizers will select the top 5 Content Creator videos and open up voting to members to choose their favorite. The voting will take place over three days within Discord, with the final results being announced at the end of the contest.

Note: The evaluation criteria are as follows:
50% of the score will be based on the reactions in Discord.
50% based on Ancient8 team's assessment.

The Ultimate Rewards: Exciting Prizes Await!

The winners of each category will receive the following prizes:
1st Place:
150 USDT
A8 merchandise kit, which includes a cap, T-shirt, mouse pad, and more.

2nd Place:
100 USDT
A8 merchandise kit, which includes a cap, T-shirt, mouse pad, and more.

3rd Place:
50 USDT
A8 merchandise kit, which includes a cap, T-shirt, mouse pad, and more.


Apply now and take the first step in becoming a part of the Ancient8 gaming community! The possibilities are endless, and the potential for growth and success is limitless. Don't miss out on this chance to turn your passion for gaming into a career with Ancient8!

About Ancient8
Ancient8 is a Web3 gaming infrastructure protocol. Ancient8 builds Web3 Gaming Loyalty Platform Space3, Dojo Launchpad, research content platform, and Vietnam's largest guild to help Metaverse projects onboard millions of users to Web3. We've developed products to help 100+ web3 games and 200K+ users better navigate Web3.
Ancient8 has raised $10M in total financing from leading investors including Pantera, Dragonfly, Hashed, Makers Fund, C² Ventures, Mechanism, Coinbase, IOSG, Animoca, among others.
Join us in our journey to build the Metaverse!

Twitter | Discord | Website | Research Portal | Blog | Facebook | Telegram | YouTube